Preserve Keeps History From Sinking
Wednesday - September 03, 2008
E-mail this story | Print this page | Comments (0) | Archive | RSS
|
Share

Del.icio.us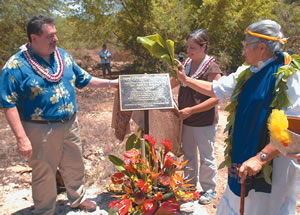 Kahu Kala Holden (above, right) performs a traditional Hawaiian blessing as Kapolei Property Development senior vice president Dave Rae and Marjorie Ziegler unveil a plaque dedicating a 6-acre nature preserve in Kapolei to Marjorie's late father, zoolo-gist Dr. Alan C. Ziegler. Photos courtesy of Kapolei Property Development.
Kapolei Property Development recently re-fenced a parcel of its land close to Campbell Industrial Park in honor of the late Dr. Alan C. Ziegler.
The site, now known as the Alan C. Ziegler Preserve, is home to the famous Ewa Sinkholes, which have yielded many clues to Hawaii's natural and cultural history.
"Kapolei Property Development is pleased to help preserve this 6-acre site that contains important clues to Hawaii's natural and cultural history," said David Rae, senior vice president of the company, during the Aug. 13 dedication ceremony. "Generations to come will have the opportunity to explore and learn about these sinkholes and discover for themselves why this area was so inspirational to Dr. Ziegler."
The company is currently in discussions with the state Department of Land and Natural Resources to put the nature preserve in the state's Natural Area Reserve System (NARS). The NARS program protects representative samples of Hawaiian biological ecosystems and geological formations. The West Oahu property was previously labeled "highly desirable" by the NARS Commission in 1994 because of its unique topography and fossil record.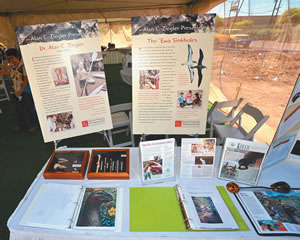 As seen in the display at right, Dr. Ziegler's research at the Ewa Sinkholes in Campbell Industrial Park led to the discovery of several previously unknown species of Hawaiian birds. Photos courtesy of Kapolei Property Development.
"Protecting Hawaii's natural resources is an important priority for all of us," said Mayor Mufi Hannemann. "Setting aside these Ewa Sinkhole lands as a natural preserve will allow future generations to continue the important work of (Dr. Ziegler) and uncover more clues about the natural history of our island home."
Ziegler's pioneer sinkhole studies in the 1970s led to the discovery of several previously unknown, extinct Hawaiian birds such as the Porzana ziegleri, otherwise known as the small rail. The zoologist and conservationist was a Hawaii resident for 35 years, 17 of which he spent as head of the vertebrate zoology division at the Bishop Museum.
Ziegler also led many school field trips to and around the historic site; in that same tradition, educator Ati Jeffers-Fabro led a group of Kapolei Elementary School students into one of the sinkholes the day of the dedication.
Speaking on behalf of Ziegler's family was daughter Marjorie, executive director of the Conservation Council for Hawaii.
"My father loved science and loved the natural environment," she said. "Mahalo to Kapolei Property Development for honoring my father's wish that this site, with all its scientific and cultural significance, be preserved for future generations to enjoy and explore."
Most Recent Comment(s):