Recycling Experience Pays Off
Wednesday - March 14, 2007
By
.(JavaScript must be enabled to view this email address)
E-mail this story | Print this page | Comments (0) | Archive | RSS
|
Share

Del.icio.us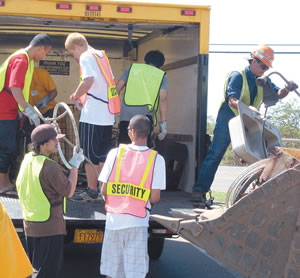 During the Feb. 17 recycling campaign by Kapolei High
School students and Waste Management of Kapolei, Waste
Management volunteers unload bulky items they collected
from neighborhood homes.
Kapolei High School students helped the community and themselves by engaging in a recycling and clean-up project in partnership with Kapolei-based Waste Management.
Funds raised from the Feb. 17 event will help the students pay for an upcoming trip to Disneyland to participate in a nationwide video competition.
"The STN (Student Television Network) students did (the recycling project) for their trip," explained JoAnn Abrazado, academy activity coordinator. "They enjoyed doing it and worked as a team."
Other student volunteers helped with the event to get extra credit and as a community service project.

Students and Waste Management volunteers attend to
one of 400 residents from as far as Hawaii Kai and
Kaimuki, who showed up to drop off recyclable items,
including computers. Photos courtesy of Waste
Management.
"They all worked really well together and were very cooperative," added Abrazado. "Our motto at school is 'one team,' and they did work as a 'one team' effort."
More than 400 neighbors dropped off computer parts, bulky materials and unwanted household goods for the school's clean-up effort.
Also part of the team, Waste Management donated the funds to pay for seven trucks, and the gas to help pick up some of the recyclable items.
"We recognize the need to work in union with community leaders," said Russell Nanod, Waste Management community affairs manager. "It encourages people not to dump in our beaches and our parks."
Abrazado noted that it was eye-opening for the students to learn about helping neighbors and the community to keep the land free of trash and other unwanted items. For example, one lady in Aiea had an old cast iron bathtub that had been sitting in her yard for years. It was so heavy, that until now, she hadn't been able to get anyone to remove it for her.
"(The students) also learned how hard it is to gather up all of the opala from all of the different areas of our state," added Abrazado."They couldn't believe the types of opala people keep in their yards."
Most Recent Comment(s):