Shake It Up, Baby, Let's Twist & Count

Wednesday - April 01, 2009
By
.(JavaScript must be enabled to view this email address)
E-mail this story | Print this page | Comments (0) | Archive | RSS
|
Share

Del.icio.us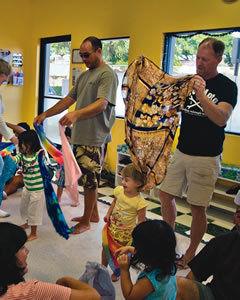 Fathers Scott Ng (left) and Allan Bailey do a scarf dance with daughters Bella and Sofia (in front of respective dads) at a recent Ohana Music Together class. Photo by Byron Lee,

.(JavaScript must be enabled to view this email address)

.
"There's a reason we all learned our ABCs by singing a song."
So asserts Becky Andrew, director and certified teacher with Ohana Music Together. Part of the internationally recognized Music Together program, Ohana Music Together is a family-based program that encourages early childhood learning through song, dance and other musical activities.
"Our curriculum supports development in language, cognitive, emotional, social and physical skills," explained Andrew, who brought the idea to Hawaii's shores in September of 2003 after the events of Sept. 11 altered her career and life paths.
"When the towers fell and all communications went down in the city, my husband and I were unable to get in touch with each other for 12 hours," the Missouri native and former Broadway performer recalled."Over the next few days, we, like many other people at that time, decided not to hold off on doing what we most wanted to do."
For Andrew, that included a permanent move from New York City to what was once a vacation stop - and a switch from the go-go-go corporate world to running two go-go-go child-oriented music studios in Pearl City and Ward Warehouse.
"Music learning supports all learning,"the Makaha resident stated. "That may sound like a bold statement, but more and more research is showing this to be true." She added that modern technology has given researchers the ability to watch the brains of people listening to and participating in activities associated with music. It was found that more areas of the brain "light up" when people are actively involved with the music-making process.
"What it comes down to is this: Our musical activities are designed to make the most of the way that children learn through experiencing and experimenting," Andrew said. "Making music together fosters a learning community, a group process with opportunities for creative expression. A child whose parent(s) are taking the time to sing, dance, play and act silly with them is receiving the irreplaceable gift of time with their parents doing something fun and beneficial."
The spring semester runs from April 6 through June 14 at the Ohana Music Together Studio in Pearl City (945 Kamehameha Hwy., #105 in the rear building of Stuart Plaza). Each weekly class will bring together eight to 10 families with extensively trained teachers who will guide parents, grandparents, aunties, uncles and other caregivers in sharing songs, instrumental play, rhythm chants and movement activities with their keiki.
"Our classes are 45 minutes of nonstop music," exclaimed Andrew."The atmosphere is very relaxed and playful. We do a lot of laughing, and there is no performance orientation, so the children are free to experience the music in their own way with no pressure to participate or 'get it right.'"
Andrew said this year they will use songs from the "Triangle" collection (there are nine in all), of which all enrolled families will receive copies in an illustrated songbook and two CDs to keep the music-making going at home or on the go.
"What is important is that the children will have the experience of sharing the musical activity with someone they love, and that is the catalyst for learning and for creating happy memories around music."
For more information on classes or to sign up, visit www.ohanamt.com or call 372-8767.
Most Recent Comment(s):