Stepping Up To Education With Their Babies
Wednesday - July 30, 2008
By Kerry Miller
E-mail this story | Print this page | Comments (0) | Archive | RSS
|
Share

Del.icio.us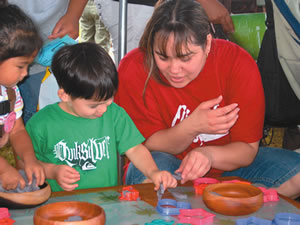 Mothers get hands-on with their keiki as part of two separate Keiki Steps programs. Throughout the day of the Keiki Steps Spring Festival (above), parents learned activities they can easily do at home, such as making clay and creating characters, to help their children learn, grow and become better prepared for school. Photos courtesy of INPEACE.
Thanks to two generous grants, the Institute for Native Pacific Education And Culture's (IN-PEACE) Keiki Steps program will continue educating local parents and their little ones for the next three years.
The Kapolei-based nonprofit started its Keiki Steps program 10 years ago as a way for parents with children age 0-5 to participate in their children's preschool programs.
"Parents come with children to the preschool classroom. What the parents are doing is learning how to interact with children to maximize brain connection and other stuff necessary for kindergarten success," said Kanoe Naone, CEO of INPEACE.
"Our program is about sharing, teaching about color, different names, building literacy along with math. We just basically empower (parents) to be their child's first teacher."
Keiki Steps is offered in the mornings at elementary school campuses as well as at churches and parks in the Nanakuli, Kamaile, Maili, Waianae, Makaha, Leihoku and Kapolei communities, with 12 sites total. Had it not been for one grant from the U.S. Department of Education and a second from the W.K. Kellogg Foundation, Naone said that Keiki Steps would not have continued for another year.
Families (left) flocked to Barbers Point Elementary School July 8 for a free summer learning program that gave keiki and parents a preview of what they can expect in kindergarten. Everyone got to make new friends as well as try out some fun classroom activities. Photos courtesy of INPEACE.
"Basically, all of our sites would have shut down this year. They all closed in May, and so they start back up in August with this funding," explained Naone, citing that the grants ($948,000 from the U.S. Department of Educat i o n , $814,000 from the W.K. Kellogg Foundation) will each fund six of Keiki Steps' existing sites.
"We have a long-standing partnership with the community. We are expanding; we had 11 sites last year, with the newest at Barbers Point Elementary School."
The W.K. Kellogg Foundation serves vulnerable children and their families, particularly those living in poverty communities who may be on welfare. Naone explained that Kellogg is looking at the Keiki Steps program as a model to benefit other families nationwide.
"Many of the families hate homework and don't see the value in it. Once we help parents understand (the importance of homework), they really are supportive," explained Naone.
"Kellogg acknowledges that parent education is key. They're looking at it as a replication model that can be a p p l i e d across the country in vulnerable communities.
"Families that get welfare and WIC, they're actually home with their kids. This is an opportunity to come out with their kid and have their child get ready (for school)."
INPEACE does not have a preference policy for admittance and serves a mix of families through work focused on early childhood education and work-force development primarily in communities with high concentrations of native Hawaiians.
For details, call 690-8097.
Most Recent Comment(s):