Students' Art A Permanent School Exhibit

Wednesday - July 01, 2009
By
.(JavaScript must be enabled to view this email address)
E-mail this story | Print this page | Comments (0) | Archive | RSS
|
Share

Del.icio.us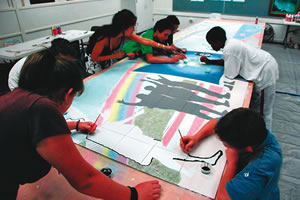 Lyn Deir (center) instructs Iroquois Point Elementary sixth-graders (clockwise from green shirt) Drake Fisher, Josh Kuga, Jeremy Ephriam, Kamu Bush-Loo, Cassidy Rock and Fia Faaagi. Photo from Thomas Deir.
Local artist Thomas Deir, known for his paintings on canvas and tile, has created yet another masterpiece with the help of 300 Iroquois Point Elementary School students.
But if it wasn't for principal Heidi Armstrong, the venture would not have happened. Faced with budget constraints, Armstrong approached the Joint Venture Education Forum, which approved a grant that made the whole project possible.
"Integrating the arts into our educational framework is crucial," she explained. "With a limited budget, the arts tend to go by the wayside. We are continually looking for ways to support art in our curriculum, and this project allowed us to do that."
Deir is well-known throughout Oahu and already has donated his talents to 15 other schools islandwide. His last work was a piece at Kainalu Elementary School in Kailua in 2004.
"My primary goal is to refine my teaching program.As in life, I strive to get better at everything I do repetitively," he said.
Armstrong and Deir had collaborated on a previous school mural and were delighted to once again create a unique work of art together.
"I love doing school murals," Deir stated. "It's the ultimate creative process - permanently recording ideas, memories, feelings and expressions of the children."
Iroquois Point Elementary School is now home to a colorful mural, made possible in large part by the efforts of artist Thomas Deir and school principal Heidi Armstrong. Photo by Nathalie Walker,

.(JavaScript must be enabled to view this email address)

.
It's that creative process that Deir fell in love with since day one. According to the master artist, each student completed a questionnaire about growing, learning, going on a journey and the location of their school. The next step was creating a storyline where the words transformed into symbols or pictures, all now depicted on the tile mural.
"I often create a backdrop of the location of the school and use the middle and foreground to place the symbols that represent the ideas, memories, feelings and expressions of the children," Deir explained.
Each child had the opportunity to paint his or her personal symbol on the 6-by-18-foot mural, which helped
them learn the basics of art technique. The students assembled into groups and took turns working on the mural for 45 minutes throughout the day.
"I start out by having each child practice stroking and dabbing with a brush while at the same time teaching them about the science of color, the geometry of a rainbow and a coconut tree while using different brushes such as a liner and fan brush," he explained.
After three weeks the painting was complete. Deir then took apart the tiles one by one and fired them in a kiln, and Armstrong was nothing but pleased with the results.
"I was extremely happy with the outcome,"
Armstrong said."The mural truly exudes our commitment to excellence in education."
"My goal is to create a permanent work of art that will last for generations that expresses how these children feel about their experience at this particular school at this time in their lives," Deir added, "and have fun doing it while teaching them how to create and paint.
"This is effective learning."
Most Recent Comment(s):