Student's Art Graces New Yellow Pages

Wednesday - September 20, 2006
By
.(JavaScript must be enabled to view this email address)
E-mail this story | Print this page | Comments (0) | Archive | RSS
|
Share

Del.icio.us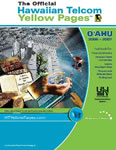 Leeward Community College art student Dawn Groves recently received exciting news from Hawaiian Telcom. Her work, a digitally enhanced photo montage,won the company's contest for a spot on the cover of its 2006-2007 yellow pages.
"My art professor, Alan Leitner, told me me about the contest and urged me to enter it,"explained Groves."He believed in me, so I had to give it a shot."
Groves' winning piece served as the final project for her art class and earned her an A. Her work, titled, Passion for Knowledge, was modeled after the theme "Celebrating 100 Years of Higher Education in Hawaii - A Century Through an Artist's Eyes." The contest was open to all students, faculty and staff in the UH system during the spring 2006 semester. The phone book will serve as part of the University of Hawaii's centennial celebration.
"Originally they opened the contest to six different pieces of art for various areas - Windward, Leeward, etc.," said Groves. "They were offering $300 to whomever won a place on each of six directory covers - but I got all of it!"
Her work was "so phenomenal," according to Ron Montgomery, vice president and general manager of Hawaiian Telcom, that it was chosen to grace the covers of all six Oahu directories. Hawaiian Telcom quickly discovered that Groves is also a photographer.
"They are using some of my photography on their brand new companion book that is being issued this year,"said Groves, describing her picture of a canoe that will be featured on the cover of the condensed, takealong volume. "Then they asked me if I had been to the other islands,because they wanted to use my photos for covers for phone books for the respective islands as well.
"In fact, this weekend (Sept. 16-17), they're flying me over to the Big Island to take pictures of the lava."
Groves attended the unveiling of the new Oahu yellow pages and companion directory during half-time at the UH Wahine volleyball game Sept. 14.
Groves worked as a critical-care nurse for 20 years,and after an onthe-job back injury, she decided to pursue her lifelong passion for photography. She is now attending her third semester at LCC toward a degree in digital media with a focus on Internet production. She also owns her own photography and website design business. Her work can be viewed at www.naturaphotographics.com
Most Recent Comment(s):