Students Become Animal Stewards

Wednesday - June 09, 2010
By
.(JavaScript must be enabled to view this email address)
E-mail this story | Print this page | Comments (0) | Archive | RSS
|
Share

Del.icio.us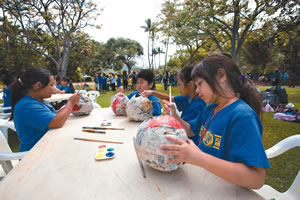 August Ahrens third-graders (above, from left) Lyka Jacob, Azariah Rodillas, Alyssa Agacid and Lareina Rodrigues decorate paper mache balls for orangutans (left) Violet and Rusty to enjoy as part of Honolulu Zoo's first-ever Enrichment Day. Photos by Leah Ball,

.(JavaScript must be enabled to view this email address)

.
Nearly 200 third-graders from August Ahrens Elementary School became the guinea pigs recently when they attended Honolulu Zoo's first-ever Enrichment Day at the Zoo.
The idea began last year when teacher Sherri Tallman wanted to instill the importance of animal awareness in her students. As part of her curriculum, Tallman had students visit the Web site of the zoo's Animal Environmental Enrichment Program so they could learn about why enrichment activities are crucial for animals in enclosed environments.
Seeing that the program needed donations to keep the tigers, chimps, elephants and other species happy, Tallman took the opportunity to make this a learning experience for both keiki and beast.
"Sherri approached the zoo after her own third-grade class raised money and purchased items that were listed on the zoo's wish list last year," said Shelby Carlos, membership coordinator of Honolulu Zoological Society.
The class raised approximately $600 to purchase items such as dried herbs, cereal, honey, peanut butter, stuffed animals and blankets.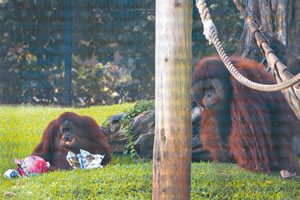 Orangutans Violet and Rusty
Carlos said that because of this immense generosity, Honolulu Zoological Society partnered with Tallman to coordinate a day when all eight August Ahrens' third-grade classes could visit the zoo and see firsthand the impact of their hard work.
On May 20 the students went prepared with painted paper mache balls they had created beforehand. They then filled the balls with treats for the chimpanzees and orangutans to enjoy, and it seems they had a monkey of a time learning about the importance of animal welfare.
"The students ... watched animals enjoying enrichment items and talked to keepers, delivered seedlings to different sections in the zoo and toured the zoo," recalled Carlos.
"We hope these third-graders will learn to have an appreciation for animals, the true meaning of enrichment, and its importance in keeping the animals happy and healthy."
Added Tallman: "This project has come full circle - from educating the students about animal welfare, fundraising and purchasing to enrichment and seeing those items being enjoyed by the animals.
"It's been a project that touches bases on so many levels of learning and actual life experiences that you cannot help but feel what you are doing is important, as well as enriching to your own life, and a great way to take ownership on a community project."
Most Recent Comment(s):