Sumo's Best Revisit Their Hometown
Wednesday - February 21, 2007
By Lisa Asato
E-mail this story | Print this page | Comments (0) | Archive | RSS
|
Share

Del.icio.us

Sumo legend Musashimaru is flanked by grand
sumo producer Wayne Miyao (left) and Wayne
Yagi (office manager for state Rep. Jon Riki
Karamatsu) on a Feb. 15 visit to Hawaii's
Plantation Village. Photo by Nathalie Walker,
.(JavaScript must be enabled to view this email address)
Konishiki and Musashimaru, two living legends from the Waianae Coast who soared to the heights of sumo in Japan, brought a message of hope to students in their home-town, saying they were "living proof" that others from the area can also succeed.
"We are living proof that just because we're from Waianae, it doesn't mean that we're a negative part of the island," Konishiki told a group of Waianae High School students last week."We play a big part of being positive in our (own lives), and it's really up to you to make it positive in your life.
"You make a choice and that choice is up to you - if you want to do good, it takes a lot of work."
"Don't give up," said Musashimaru, who was still known as Fiamalu Penitani when he played football for Waianae High."(If you) run into the wall, get back up."
Both grand champions are now retired and living in Japan, where they're treated like celebrities."You get to meet all the big stars," said Konishiki, who's met Beyonce, Michael Jackson, Mick Jagger and played basketball with Michael Jordan.
But success wasn't easy, he said. Training was rigorous, chores were menial, and newcomers were at the mercy of senior wrestlers. But when things got tough,"being from Waianae ... helped us.When things got tough, we got tougher."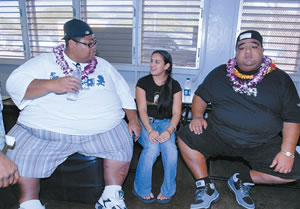 "Konishiki Kid" and Waianae High School senior Kathryn
English sits between sumo greats Konishiki and
Musashimaru during their Feb. 15 visit to her high school.
Photo by Nathalie Walker, .(JavaScript must be enabled to view this email address)
Today, the man who grew up in a house with no shower or kitchen owns a restaurant and record label in Japan,performs about 150 shows a year as a singer and hosts a popular children's TV show.
Konishiki, who was born Salevaa Atisanoe, told the students that "Waianae coast is living proof of what life can be to you if you don't achieve so much. Our beaches are filled with homeless." But, he said,"every single boy and girl in this class has the possibility of doing good, doing really good for your lives.You know, make people proud of you and be strong."
Senior Kathryn English called the wrestlers "very inspiring."Inspiring enough to make her "want to follow my dream of going to college," said English, who traveled to Japan as a sixth-grader through Konishiki's Kids Foundation, which has been taking Waianae coast students on the educational trips.
Later in the day, Musashimaru toured Hawaii's Plantation Village in Waipahu to inspect its "dohyo," or competition ring, which has fallen into disrepair.
Sadly there are no Hawaii sumo wrestlers in Japan right now,he said, adding that restoring the dohyo would introduce and hopefully encourage more youngsters here to enter the sport.
"Slowly educate them about sumo and then once you get (the fire) lighted, it starts burning,"said Musashimaru, a sumo coach who is in town to promote the 2007 Grand Sumo Tournament taking place at the Blaisdell Center in June.
Jeff Higa, Plantation Village development director, said fixing the facility will cost an estimated $40,000 to $50,000.
A fundraising drive is planned for the village's 15th anniversary celebration in September. Donations are being accepted (677-0110).
Most Recent Comment(s):