Swim School Settles In Pearl City
Wednesday - October 04, 2006
By Lisa Asato
E-mail this story | Print this page | Comments (0) | Archive | RSS
|
Share

Del.icio.us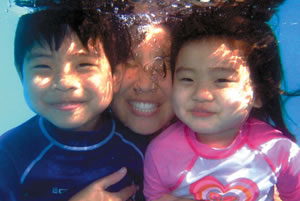 Keiki at Leahi Swim School enjoy their underwater
experience. Photo by Billy Remular.
Water-loving West Oahu residents can stay closer to home now that Leahi Swim School is offering classes six days a week in Pearl City.
Classes at Momilani Recreation Center have proceeded swimmingly, with about 1,500 students attending since its June opening, said Ben Komer, a 2004 Olympic hopeful who runs the site. Ben's mother, Lori Komer, founded the school 32 years ago and runs the school's Manoa site.
Demand for expansion to the West side has been huge, Lori said. When Ben graduated from college, he told her he wanted to grow the business. "Great," she said, "let's find a pool. And the rest is history."
West Oahu residents are thrilled."I had families saying 'Wow, thanks so much, we're so tired of driving from Pearl City, Mililani, Ewa Beach to Manoa three times a week,'" Ben said. One grateful family even brought lunch for the whole school.
Since April, Ben has worked to improve the unused facility. He upgraded the filttration system, built platforms to control pool depths, installed umbrellas and tents, and added a bay window in the office so the pool could be seen. Plans also call for a new lighting system and continued work on the grounds.
Ben described the school's philosophy as fun and pressure-free. Classes are limited to five students, and instructors, mostly high school to college age, are taught by the Komers. The school has exclusive use of the Momilani pool 24 hours a day, seven days a week, giving it flexibility for class times, Ben said. On Sundays, the pool is open to the public from noon to 3 p.m. and is available for rentals from 3 to 6 p.m.
The school accepts students ages 6 months to adult. At Pearl City, Ben's eldest student is an 85-year-old man who is determined to learn to swim after having a scare when he was younger. "Sure enough, he's getting it," Ben said. "He loves it. After his third class he was doing the breaststroke across the pool."
For more information, visit www.leahiswimschool.com or call 456-4506.
Most Recent Comment(s):