Swimmers Rally For Injured Champ

Wednesday - August 18, 2010
By
.(JavaScript must be enabled to view this email address)
E-mail this story | Print this page | Comments (0) | Archive | RSS
|
Share

Del.icio.us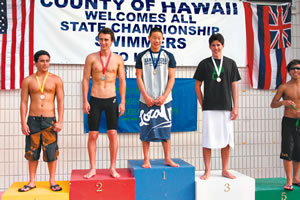 Daren Choi (second from right) stands among the winners of a state championship swimming competition last year. With the first-place swimmer are (from left) Ian White, fourth place; Logan Borewski, second place; and Robbie Kiessling, third. Photo by Colleen Mau.
Members of the Kamehameha Swim Club have set up a fund and are looking for support for their teammate Daren Choi, who has begun his long road to recovery after a serious accident earlier this year nearly took his life.
The Pearl City High School student was one of a dozen of Hawaii's fastest swimmers traveling in Western Samoa for an international competition when a fall changed his whole life.
While sightseeing on the island of Savaii, Choi fell 15 feet off a rock into shallow water, fracturing his spinal cord. The quick reaction of his teammates almost certainly saved his life, as Choi had landed face-down in the water and was unable to move.
Without immediate transportation available, the 16-year-old had to spend his first night after the accident in a hut-like hospital. He was then taken to Samoa's Apia National Hospital where the only MRI machine in the facility was not operating. Choi was then flown to Auckland, New Zealand, where he spent the next 10 days undergoing tests before returning to Honolulu.
"We are very fortunate that Daren's coach was able to stay back and be at his side while in New Zealand," said father Derrick Choi.
"Our feeling back home was a roller coaster of emotions, doubts and fears, and we were so glad his coaches and teammates were there to stabilize him."
The entire swim club community has played an enormous role by doing everything it can to make the Waipio teen's recovery easier on him and his family.
"We have gotten a tremendous amount of support and guidance through each step of the recovery process. The willingness of the community is amazing," said Derrick. "Everything has been able to fall into place in terms of hospital plans, injury awareness and emotional support.
"We had no idea Daren's teammates even started a fundraiser; they just went out on their own and knew they wanted to do something for Daren."
Choi is recovering at The Queen's Medical Center and has begun to regain movement in his arms and legs.However,doctors have informed him that with this type of injury, a full recovery takes patience and a positive, proactive state of mind - all of which the swim champ possesses.
"He has such a personable and spirited personality," said his father. "He's someone you really want to get behind and support."
Both check and cash donations can be made to KSC Friends of Daren Choi at all First Hawaiian Bank branches.
For more information, contact Shannon Cadell at 292-3076 or e-mail .(JavaScript must be enabled to view this email address).
Most Recent Comment(s):