Teen Readers Meet Authors At UH Fest
Wednesday - May 16, 2007
By
.(JavaScript must be enabled to view this email address)
E-mail this story | Print this page | Comments (0) | Archive | RSS
|
Share

Del.icio.us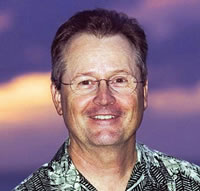 Graham Salisbury
The 10th annual Celebrate Reading Festival on April 28 at the University of Hawaii at Manoa campus had several West Oahu schools in attendance.
It has become a tradition for students from Aiea, Kapolei, Ewa Beach and Pearl City to be part of the gathering. The festival (which is also celebrated on the Neighbor Islands) provides a list of books for people of all ages to read prior to spending a day meeting the authors for interactive and lively conversation.
"It is an opportunity for students to meet authors and be in an intergenerational conversation,"festival founder Lorna Hershinow explained, adding that the program is not just school-based, it is for book lovers everywhere.
Aiea freshman English teacher Virginia Young and her students had a chance to converse with some of the 21 authors at the festival.
"I make it mandatory for my honors class, and it is extra credit for my other classes,"said Young. "Some students were groaning that it's on a Saturday, and they'd have to wake up early. So I promised them that if they went, and they didn't like it, I wouldn't make next year's class go. The vast majority said they'd do it again next year."
Young gets her students to read at least two books on the list. This year she believes one of the highlights for the students was to meet Blue Skin of the Sea author Graham Salisbury.
"They liked that he was not an exceptional student," explained Young. "He didn't start out to be a writer - he was in a rock band - and here we are studying his books in school as a part of the curriculum."
Young, who has attended the event for the past four of five years, said the students always love performance poet Kealoha.
Young shares what the festival means to her:"I'm a language professional," she said,"and I love the festival. And my kids love the festival; it stretches across sociological boundaries.
"Lorna does a fantastic job of organizing and getting the authors out here,"she added."I admire her so much. I think everyone should throw money at her because if we had unlimited funding we could get Stephen King."
A total of about 34 students from Aiea High School attended, including 18 students from Young's honors class. Aiea's Literature Club adviser Ronnell Nip, the school's HSTA Teacher of the Year, also brought some of her club members.
"Authors are real people - they have flesh and bones, and they breathe,"said Young, explaining the importance of the festival. "They aren't just a figment of the imagination. It's a potential career for some."
For more information, visit www.hawaii.edu/hwp/teensreading.htm
Most Recent Comment(s):