The Brush Is Mightier Than The Spray Can

Wednesday - April 22, 2009
By
.(JavaScript must be enabled to view this email address)
E-mail this story | Print this page | Comments (0) | Archive | RSS
|
Share

Del.icio.us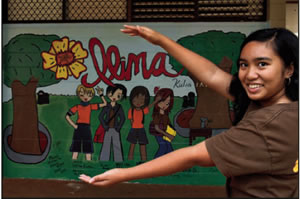 Seventh-grader Leeann Cauilan sees her winning mural design come to life. Photo by Nathalie Walker,

.(JavaScript must be enabled to view this email address)

.
Ilima Intermediate has a new mural on display, capturing the Ewa Beach school's ethnic diversity, vision and motto, thanks to a design contest organized by its National Junior Honor Society.
During a recent leadership retreat at Camp Erdman, honor society adviser Jennifer Hoffman said students wanted to create a mural to beautify their campus and instill a sense of pride into its student body.
"Graffiti is a constant concern, so the students thought if they could get a collaborative school effort to create the mural, it may deter graffiti,"Hoffman explained."Ilima used to have beautiful murals all over the school back in the 1970s, but they have since been painted over when we were remodeled by the state. With those murals gone, the students felt that something was missing, and perhaps it was time to create a new student legacy for Ilima."
Many entries were submitted, with the only requirement being that the design send a positive message through either written or graphic representation. Seventh-grader LeeAnn Cauilan was the chosen winner through a classroom ballot.
According to Hoffman, Cauilan's entry exemplifies the multiculturalism found within the Ewa community as well as the unity on campus.
"Ilima is a widely diverse campus," stated Hoffman, who also serves as the school's literacy coach."Ewa Beach has been changing - with all the new housing developments being built - and as such has brought students from varying ethnicities and socioeconomic backgrounds to our school."
Cauilan's mural design was done in an anime-type style and depicted four multi-ethnic students in the courtyard along with the school's motto "Kulia i ka nu`u - strive for the summit."
Hoffman said the ultimate goal of this project was to enforce the fact that they are part of something much larger than themselves.
"Almost all the entries depicted just that," she said, also crediting runners-up Zachary Angeles and Neil Chan, both in eighth grade.
"We are trying to get our students to be the best they can be - in academics, in leadership roles, in being community contributors, in being a person they can be proud of and, finally, in knowing their own potential."
Most Recent Comment(s):