The Last Orchid Show At Kunia Gym

Wednesday - February 07, 2007
By
.(JavaScript must be enabled to view this email address)
E-mail this story | Print this page | Comments (0) | Archive | RSS
|
Share

Del.icio.us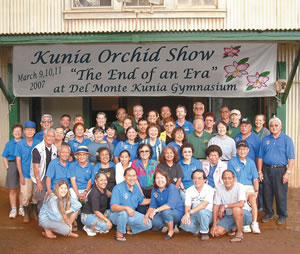 Kunia Orchid Society members gather in front of the Kunia
Gym to promote their 53rd — and final — exhibit at the old
community hall. Photo by Ron Harris.
When the Kunia Orchid Society opens its annual spring show in March at the Kunia Gym, it will be the final time that orchids will brighten the old building.
Soon after the society's 53rd straight exhibit March 9-11, the gym is slated to be bulldozed along with workers' homes, marking an end to the pineapple plantation era in Central Oahu, along with Del Monte's lease on the buildings.
"We could easily use the gymnasium for another 20 years," said orchid show co-chair Callman Au. "They fixed it up a little bit, we'd like to think it was for us." The old gym served as a community center for the plantation workers, and occasionally for the high school basketball team, Au recalled.
"The Del Monte supervisors started up an anthurium show in the gym, which eventually became an orchid show," said Au, adding with some partiality:"Orchids have many more colors and shapes."
To mark the sad occasion, the 100-member Kunia club will host a Korean dinner for old-timers and show donors from all over the island at 5:15 p.m. March 8 - between the show's set-up and judging. Del Monte officials and the new principal and staff from Leilehua High School also have been invited.
"We're calling it 'The End of an Era,' " said Au, a retired Leilehua teacher who with his wife Frances has headed the club for several years.
The society expects at least 5,000 attendees at the show, which will feature displays by six clubs, demonstrations, and hundreds of blooming orchids and other plants for sale. The 2,007th visitor will be recognized with a basketful of blooming orchids. Admission is $2. A school will sell kiawe-broiled chicken, while plantation families will man ethnic food booths on the front lawn to supplement their income.
Next year's show will be March 14-16, 2008, at Leilehua."They're anxious for us to go there," explained Au,"and we should take up their offer while they still know us."
For more information, call 623-8585.
Most Recent Comment(s):