The Pearl Dishes Up New Delights
Wednesday - January 24, 2007
By
.(JavaScript must be enabled to view this email address)
E-mail this story | Print this page | Comments (0) | Archive | RSS
|
Share

Del.icio.us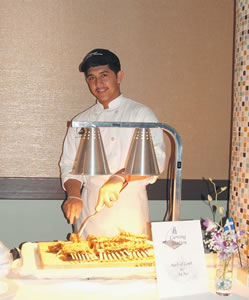 Zedrik Dana carves lamb racks for a special
buffet at The Pearl, put on by students of
Leeward Community College's culinary arts
program. Photo courtesy of The Pearl.
While some might find planning the next day's schedule difficult, The Pearl restaurant at Leeward Community College already has its menu for the entire semester planned.
The campus eatery serves lunch from 11:30 a.m. to 1:30 p.m. Wednesday through Friday through April 20, with some closures for school activities.
"The menu is created by the chef so that the students learn in the kitchen how to use certain kinds of ingredients," said program coordinator Tommylynn Benavente.
To give diners just a taste of what the school has on the menu, here is a peek at what chef instructor Ian Riseley serves Jan. 24, 25 and 26.
Appetizers include steamed manila clams and shrimp with saffron vegetable broth ($5.95); roquefort cheesecake with Belgian endive salad, green apples, and xeres vinaigrette ($5.25); and chicken breast and vegetable terrine with roasted red pepper coulis ($4.95).
The entrees are charbroiled island snapper with calamata olives and tomato ogo butter sauce ($13.95); escalope of pork, pine nut and caper brown butter served with gorgonzola polenta ($12.95); and ballotine of chicken with red wine sauce and Hamakua and crimini mushrooms ($11.95).
Foodies with a sweet tooth may choose lemon sabayon and pine nut tart with hon-eyed mascarpone cream ($4.95) or profiteroles stuffed with Tahitian vanilla bean ice cream and strawberry coulis ($4.95).
Students in the culinary program work in the kitchen for eight weeks, then they work "in front of the house" for eight weeks. The students working the front of the house take reservations, set up the room, order linens, and serve the food. The students in the kitchen prepare the food and cook the dishes.
On Jan. 31 and Feb. 1, 2, 7, 8 and 9, students will serve the following menu, as created by Chef Riseley. Appetizers include lomi lomi salmon salad with hearts of romaine lettuce ($4.95) and Pancetta-wrapped shrimp with lemon oregano butter ($5.95).
For the main course, one option is grilled Thai chicken breast with raspberry mango relish, and saffron basmati rice ($11.95). Other entrees include seared ahi with pickled ginger and wasabi sesame butter sauce, and Asian shrimp risoto ($15.95); and sauteed duck breast with orange and ginger jus, and soybean and sweet potato hash ($15.95).
Those who saved room for dessert will have a choice of Apple and Cranberry Kuchen with Hot Cream Sauce ($4.95); and Raspberry Creme Brulee ($4.95).
Students also prepare and serve buffets. A special Valentine Buffet is planned for Feb. 14, 15 and 16, and a Spring Scholarship Brunch will be held from 7:30 to 11:30 a.m. Feb. 18.
With all the cooking and learning going on, one of the students' main goals is to come up with their own menu. Student menus will be served Feb. 21, April 11 and April 12.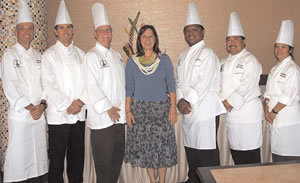 Culinary program coordinator for The Pearl, Tommylynn
Benavente stands with (from left) chef Advertising /
529-4700 instructors Ian Riseley, Michael Scully and
David Millen, lab assistant Jason Fernandez, cafeteria
manager Travis Kono and chef instructor Linda
Yamada. Photo courtesy of The Pearl.
Each student will work on either a dessert or an entree made of protein foods like chicken or pork.
Students research their recipe and presentation, and run it by the chef until it is approved. The item will be placed on the menu with the student's name next to the dish.
"The people love the student menus, and they ask when the next one will be," said Benavente.
The student menu must be a contemporary dish, have a fusion of flavors, be visually appealing, and of course, be tasty. Benavente said another criteria is that the dish must be able to serve a party of 30.
"Students get a great deal of experience," explained Benavente. "Some of the restaurant days are already full, as some groups are calling in reservations for 15 to 20 people."
Benavente said the Wahiawa Rainbow seniors club reserved the entire restaurant for 72 members. She noted that the community has expressed interest in booking functions, like weddings, at the restaurant, but she has to explain that The Pearl is not a commercial venue, and they can't cater the event there.
The restaurant will be closed some days in February, March and April for student programs and events.
For reservations, call 455-0475 or 455-0298.
Most Recent Comment(s):