The Theme Is Green In Youth Original Opera

Wednesday - April 28, 2010
By
.(JavaScript must be enabled to view this email address)
E-mail this story | Print this page | Comments (0) | Archive | RSS
|
Share

Del.icio.us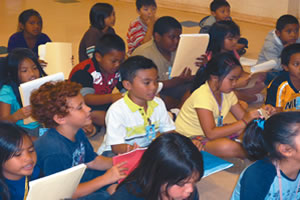 Waikele Elementary School second-graders rehearse for their upcoming opera, which the creative keiki wrote themselves through the Hawaii Opera Theatre Residency Program. They perform next Wednesday in two free shows. Photo from Val Cambra
Approximately 100 second-graders at Waikele Elementary School have combined their talents to write their own original opera to debut May 5, and each student must learn all of the songs and participate as part of the chorus throughout the production.
These clever keiki take the stage for two free shows at 5 and 6:30 p.m., when they will showcase their talents and get their chance to shine.
"We're trying to bring out those hidden talents and things we don't necessarily see in our day-to-day classwork," said second-grade teacher Val Cambra. "We do have stars that emerge, most definitely."
The production is held in partnership with the Hawaii Opera Theatre Residency Program, which takes a population of students and guides them through the process of producing and performing an opera.
"The kids write the story, and the music comes from famous operatic standards," explained Erik Haines, director of education and out-reach for HOT. "The model we're doing at Waikele is a bit different from at the other schools, though,"
The theme of this opera is centered around recycling, the school's second-grade curriculum topic for the year. Each class wrote two poems, which were then set to famous opera music by HOT's education staff.
"The Waikele project is the only one where the kids really got involved and integrated it into their curriculum," Haines said. "They developed eight poems about recycling, and when they were submitted we started developing a possible storyline.
"And now we have an opera!"
Added Cambra: "Part of the focus is the education on recycling and poetry, but just to be able to give them the opportunity to be on stage and boost their fine arts experience is big."
Most Recent Comment(s):