A Toolbox Filled With Knowledge

Wednesday - July 02, 2008
By
.(JavaScript must be enabled to view this email address)
E-mail this story | Print this page | Comments (0) | Archive | RSS
|
Share

Del.icio.us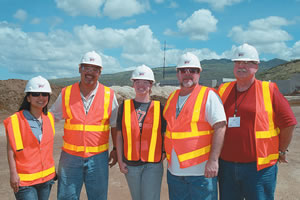 Tools of the Trade coordinator and PRP project manager Cheryl Kaneshige is on the job site of Kapolei Commons with Waipahu High School teacher Don Coloma, Bethany Mathews and John Christian of Campbell High School, and Bill Speed, also of Waipahu, during a June 18 training session. Photo by Byron Lee,

.(JavaScript must be enabled to view this email address)

.
School may be out for summer, but 10 local teachers and counselors decided that now is the perfect time to learn a few new lessons.
As part of the third annual Tools of the Trade internship program, these faculty members gained skills and knowledge about Hawaii's construction industry through hands-on activities and excursions.
"Teachers and counselors come to Tools of the Trade to gain practical knowledge of building and construction that they can use with their students," said Kyle Chock, executive director of event co-sponsor Pacific Resource Partnership.
More than 30 applicants from the state's 34 DOE Construction Academy schools applied for the coveted spots by writing essays describing how their experience would benefit their teaching and students. When the hammer fell, eight Oahu teachers got a call back, as did two from the Big Island. (Maui County schools will have a separate program later this summer.)
"We had more applicants this year than ever before, and that led to a great group of teachers who are really embracing this unique opportunity to get a firsthand, in-depth look at Hawaii's construction industry," Chock said.
One of those who made it was Campbell High School mathematics teacher Bethany Mathews.
"When I heard about this opportunity, I became very excited," she said. "Since construction involves geometry, algebra and pre-algebra skills, it will fit in well with the curriculum and standards I teach."
Also making the cut from West Oahu are fellow Campbell math and science teacher John Christian and Waipahu High career and technical education teachers William Speed and Don Coloma.
The extensive program was held June 16-27, during which teachers donned those hardhats and strapped on their construction belts as they worked up a sweat at some of Hawaii's busiest sites. Capping off the two weeks of events was a "final exam" that had the teachers build their own projects based on insider information - such as architecture, sub-contracting, bidding and estimating, sustainable development, renewable energy and building a high-rise condominium - they had been privy to.
"We're out on job sites almost every day. They've seen what goes into building everything from high-rise condominiums to renewable energy facilities to military housing, and they got to learn from the people doing it," explained Chock, adding that some of the "amazing" projects the interns attended included Kapolei Commons regional mall, a solar farm on Lanai and the Trump Tower in Waikiki.
But the true test comes when the teachers go back to the classroom in August, as they then pass on their knowledge to help prepare students for careers in the construction industry and create a quality work force for the future.
As Mathews confided: "I'm hoping that this internship will give me a basis from which I can create real-world tasks for my students to work together on."
Most Recent Comment(s):