Two Schools In One Until Next January

Wednesday - August 09, 2006
By
.(JavaScript must be enabled to view this email address)
E-mail this story | Print this page | Comments (0) | Archive | RSS
|
Share

Del.icio.us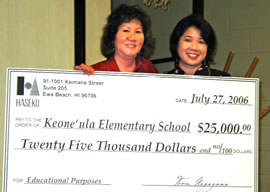 Haseko's Sharene Saito Tam (right) presents a gift to
Keone'ula Elementary School principal Eileen Hirota.
Photo from Haseko.
When Ewa Beach schools opened last month, they had to open up really wide, since two elementary campuses are being housed under one very warm roof for the time being.
Students enrolled in the new Keone'ula Elementary School are attending classes, eating lunch and playing at recess on the Ewa Beach Elementary School campus while their school is being completed in nearby Ocean Pointe.
"Both school enrollments are just growing, and it doesn't stop," said Keone'ula principal Eileen Hirota."It's very tight, and very hectic." Even with Ewa Beach Elementary's new six-classroom building, she said they are still "bulging at the seams.
"Every day I meet with (Ewa Beach principal) Sherry Kobayashi to see how we can alleviate the crowding." Splitting the cafeteria at lunch is one solution. Dividing custodial duties by building instead of by school hiring list is another.
Hirota's students, 428 of them at last count, are expected to move into the new school in January, after a get-acquainted walk-through. The facility is been built to accommodate the future population boom that the giant Ocean Pointe development will bring.
The developer, Haseko, donated 12 acres of land for the school, along with land for the Seagull preschool nearby, and has since made substantial contributions to both Ewa Beach and Keone'ula. On July 27 the company presented each principal with a $25,000 donation, which they can use "however they see fit." The contributions are part of a commitment Haseko made when it obtained its permits to build Ocean Pointe.
"The $25,000 is absolutely wonderful," said Hirota, who used to head Ewa Beach, with Kobayashi as her vice principal."They're great community partners with us." The gift will fund professional development, training fees, materials and supplies for her teachers.
Keone'ula, which means "the royal children," is a state-of-theart school that's 80 percent finished.
"It was very fast planning, about four to five intense months of the charette process, which was nice, because we got what we wanted."
"I feel extremely fortunate to have watched Keone'ula Elementary grow," added Haseko community relations director Sharene Saito Tam, "and I was so honored to present the check."
Most Recent Comment(s):