UH-West Oahu Makes Headway
Wednesday - April 04, 2007
By Lisa Asato
E-mail this story | Print this page | Comments (0) | Archive | RSS
|
Share

Del.icio.us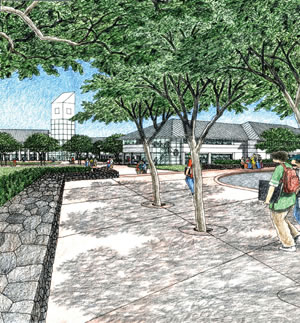 A rendering of the planned UH-West Oahu campus by
architect John Hara. Photo courtesy of John Hara and
Associates.
The University of Hawaii-West Oahu's proposed Kapolei campus took "a big step" toward development last month when Hunt Building Corp. signed a letter of intent with UH to purchase almost 300 acres of the university's 500-acre site for $100 million.
Komeiji said the university will use the $100 million to help fund construction of the first phase of its campus on the remaining 200 acres, and Hunt will develop its land with housing, a school and a park.
"A letter of intent is not quite a done deal, they have one more step - they have to sign a purchase agreement, which more or less makes it a done deal," said UH-WO public relations director Kalowena Komeiji. "We expect that to happen by mid-April or so. Nonetheless, the letter of intent is a big step in the development of the campus."
An additional $31 million for construction, already approved by the state House, is pending approval in the Senate. "That would couple with the $100 million from Hunt and would pretty much take care of the entire first phase of the campus, which is roughly four buildings," Komeiji said. Construction for the first phase will cost $135 million.
Groundbreaking is planned for early next year,and the first phase is expected to be completed around the fall of '09, Komeiji said. Its full-fledged campus will serve about 7,500 students and 1,000 faculty and staff and is expected to alleviate traffic into downtown Honolulu and Manoa, where the flagship campus is located.
Steve Colon, president of Hunt Development Group LP Hawaii Division, said: "We are proud to be part of this historic endeavor to help complete the vision of a West Oahu campus as part of a thriving 'second city,'creating hundreds of new jobs and stimulating social and economic growth to the area.
"We are deeply committed to ensuring the new campus - as well as the new community that will surround it - will be a place that all Hawaii residents will be enormously proud of."
This fall UH-WO will expand on its third-and fourth-year instruction when it begins offering freshman classes for the first time in its 30-year history. Recruiting efforts include visits to high schools from Pearl City to Makaha and a monthlong ad blitz featuring graphic-animated TV spots and radio ads on stations like Power 104.3, Komeiji said.
The school, currently based in portables on the Leeward Community College campus, will teach freshman classes in rented classrooms at Island Pacific Academy in Kapolei. The school anticipates an initial group of about 100 freshmen.
To register or for more information, call Robyn at Student Services at 454-4700 or visit the newly launched web site at http://www.uhwo.hawaii.edu
Most Recent Comment(s):