Ukulele Donation A High Note For Ewa Elementary

Wednesday - December 17, 2008
By
.(JavaScript must be enabled to view this email address)
E-mail this story | Print this page | Comments (0) | Archive | RSS
|
Share

Del.icio.us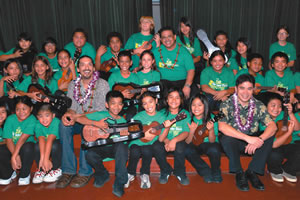 Among the Ewa Elementary students and their brand-new ukulele are (from left with lei) local entertainer John Cruz, music teacher Nolan Santa Ana and Sprint Hawaii representative Dale Goya. Photo by Nathalie Walker,

.(JavaScript must be enabled to view this email address)

.
Christmas came a little early this year for Ewa Elementary School students and music teacher Nolan Santa Ana.
Last week the West Oahu school was awarded the Melody Program Grant Award by the Mr. Holland's Opus Foundation - and 30 brand new ukulele.
Santa Ana has been teaching children the gift of music for the past eight years, but after three years at Ewa Elementary he had to give up his well-equipped music room when space was needed for a general education classroom.
"Since that time I have done my daily music lessons by routinely visiting students in their classrooms," he explained. "This roving situation created a need for more ukulele, as those ukulele that once were kept in the music room now needed to be housed and stored in classrooms.
"I was very excited and proud to hear we were found worthy of the grant award. The gift of 30 ukulele will be a great relief to our instrument situation and will be of benefit to many students in grades 4 and 6. They also will be made available for use in any special programs such as our Spring Student Showcase in May, and there's the possibility of the ukulele being used by the Ewa School Chorus for its show this spring."
Local Hawaiian singer, songwriter and multi-award winner John Cruz presented the instruments to the school prior to its in-school Holiday Chorus Concert Dec. 9. But it was back around Halloween when Santa Ana received a call from the program director of Mr. Holland's Opus Foundation inviting him to apply for the grant. Santa Ana said the school is well-known for valuing music education and was able to easily meet all application requirements.
"Ewa Elementary School has established a reputation for musical excellence by providing programs such as our annual schoolwide Lincoln Day Celebration, our A-Plus family nights, our sixth-grade concerts, our student showcase nights and performances in school and throughout the community by the Ewa Elementary School Chorus."
He added he is grateful to be able to teach and share his passion for music every day with his students and has established a unique music program for each grade level (K-6).
"Though there is much effort placed in each grade level on skill building and understanding music, my main goal is that all my students will experience music in such a way that it will stir within them an appreciation for it and a realization that music is a vital ingredient for an enriched life," Santa Ana enthused.
"My goal is for those iPod-listening students to appreciate, understand and even love the music they choose as an art form, as a means to perpetuate our cultures, as a form of universal communication, as a force that civilizes and humanizes us, and as a means to have happier lives."
The foundation, through a partnership with corporate sponsor Sprint, donates new and refurbished musical instruments to underserved schools, community music programs and individuals nationwide. This year in Hawaii, the nonprofit and Sprint Hawaii have given more than $25,000 in ukulele donations to eight local public schools.
Most Recent Comment(s):