Urban Garden Sprouts New Bunny Patch

Wednesday - May 05, 2010
By
.(JavaScript must be enabled to view this email address)
E-mail this story | Print this page | Comments (0) | Archive | RSS
|
Share

Del.icio.us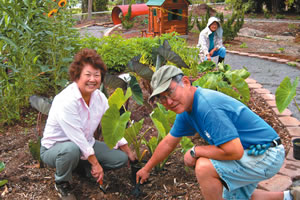 Volunteers Wendy Koja (left) and Richard Karamatsu
The Urban Garden Center in Pearl City springs into full gear this Saturday with the grand opening of the Alika Rabbit Garden, the newest addition to its Children's Garden. Festivities are planned from 9 a.m. to noon and will be the focal point of the center's Second Saturday at the Garden.
Volunteers and staff from UH Manoa's College of Tropical Agriculture and Human Resources have been working diligently on the garden for the past six months and are excited to unveil the multi-station educational adventure based on Beatrix Potter's The Tale of Peter Rabbit.
"We really want families to come out to the garden and take part in a free, self-guided tour of the Alika Rabbit Garden,"said volunteer Bea Sailer."There are 10 different stations with their own story line and activities to do that relate to The Tale of Peter Rabbit."
For instance, keiki and their families can search for rabbits while identifying a variety of plants and watering them as well. At another station, visitors will have to make tea for Alika Rabbit to soothe his stomach ache by picking herbs from the garden.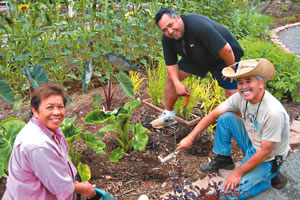 Bea Sailer, Glen Cordeiro and Miguel Toladano (below, from left) tend to vegetables and other crops in the new Alika Rabbit Garden at the Urban Garden Center. Photos courtesy of UH Manoa College of Tropical Agriculture and Human Resources.
"This is a very educational experience for both adults and kids because we have unusual plants here that people don't ordinarily see, like Olena, Roselle, Grenadine Joy Weeds, Chocolate Chip Ajuga, Dwarf Tiare and more," Sailer explained.
Volunteer Richard Karamatsu added:"It's a real eye-opener to what a garden actually is. Many young kids don't know where vegetables come from or what a garden looks like."
Live rabbits will be on exhibit adjacent to the Alika Rabbit Garden, and a few lucky keiki may win seed packets to start their own crops.
In addition to exploring the garden, visitors can participate in tours around the center, hands-on crafts and learning activities.
"Once families realize how easy it is to garden, they won't always have to go to the store to buy their fruits and vegetables," Sailer stated. "We hope to instill a love for gardening and get kids and adults excited about gardening and planting a seed."
The Urban Garden Center is located at 955 Kamehameha Hwy., just makai of Home Depot. For more information, call 453-6050.
Most Recent Comment(s):