Veterans Are Focus Of School Drama
Wednesday - May 30, 2007
By Lisa Asato
E-mail this story | Print this page | Comments (0) | Archive | RSS
|
Share

Del.icio.us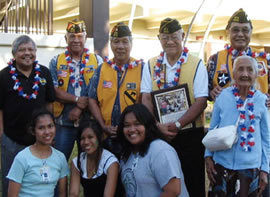 Filipino Regiment members (back, from left) Bernard
Jacang, Placido Espino, Guillermo Alejo, Domingo Los
Banos and Abilino Bagayas along with his 93-year-
old mother, Martha Bagayas, attend a drama
performance by Aiea Intermediate eighth-graders
(front) Juvilyn Sanico, Dianne Dugan and Junelyn
Dela Calzada. Photo courtesy of Aileen Moriwake.
Three Aiea Middle School students placed third at the state History Day competition in the drama performance category for their play depicting the efforts of the 1st and 2nd Filipino Regiment, who fought in the Philippines under Gen. MacArthur against the Japanese in World War II.
Eighth-graders Juvilyn Sanico, Junelyn Dela Calzada and Dianne Dugan wrote and staged the play Laging Una, named after the regiments' motto meaning "Always First."
As part of their research, the girls interviewed two of the veterans and incorporated photos from the veterans to use in their performance. When the students performed their play at the school's Pride Night on Wednesday, five veterans attended. The girls' presented them with a plaque recognizing their contributions.
Although the trio missed qualifying by one spot for the June 10-14 national competition in Maryland, two of their classmates will go on to compete: Heather Schulz took third place in documentary, and Robynne Asato took third place in display board.
The history competition is an annual project for the school. And this year Aileen Moriwake, an English Language Learner teacher, collaborated with social studies teacher Robert Tabije and Honolulu Theatre for Youth's director of drama education Daniel Kelin II to help students craft their work.
The project helped boost the girls' confidence. and seeing them perform "really brought tears to my eyes," admitted Moriwake, noting that Dugan is the sole native English speaker of the trio. "They're not very loud girls, they're very polite. Juvilyn is very soft-spoken, but when she's on stage she just blossoms. The growth that I saw in her from seventh grade to eighth grade, it was just amazing."
As part of an Artists in the Schools grant, Kelin spent 12 one-hour sessions with the students, teaching team-building and confidence-building activities and helping them revise their script and polish presentation.
His work will continue at Aiea next school year under a Rev. Takie Okumura Family Fund grant.
Most Recent Comment(s):