Waianae Playground A Joint Effort

Wednesday - July 11, 2007
By
.(JavaScript must be enabled to view this email address)
E-mail this story | Print this page | Comments (0) | Archive | RSS
|
Share

Del.icio.us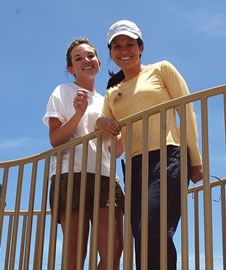 Eliza Talbot and state Rep. Kymberly Pine
help build a playground for Waianae keiki
on June 23. Photo by Kyle Karioka.
West Oahu organizations U.S. Vets and Ko Olina Charities banded together with residents, volunteers and businesses recently to help the Pai'olu Kai'aulu housing facility in Waianae build their dream playground.
"The kids have already been sneaking on to play on it because technically we haven't had a grand revealing of it, but it's hard to keep them off of it," says Rep. Kymberly Pine, the director of development for U.S. Vets. "It's changed the whole atmosphere of the center. There's so much laughter in the air."
The need for a playground was obvious when the housing facility opened in April. The children in the complex were observed using abandoned cars and bathrooms as places for play.
The playground received a soft blessing last week Tuesday, making it the only play facility on the Pai'olu Kai'aulu housing complex. Thanks to help from the Hawaii Republican Party and donations by area developer Jeff Stone, Ko Olina Charities, Ameron Hawaii, Stanley Tool Company and Pacific Recreation, the children of Pai'olu Kai'aulu now have a safe place to enjoy.
"The majority of (construction) took one day, but of course they had to do the concrete pouring about a week before," said Pine. "Then they poured that spongy material after we built it. Everything was donated and all the labor was voluntary. It's truly a project from everyone's heart."
The Pai'olu Kai'aulu housing complex is U.S. Vets-Hawaii's first non-veteran family facility and is a joint effort with the Hawaii Public Housing Authority, Waianae Community Outreach, Honolulu Community Action Program, Waianae Coast Comprehensive Health Center, Ho'omau Ke Ola and Hale Na'au.
Pai'olu Kai'aulu, a transitional shelter, can accommodate up to 300 adults and 100 keiki. It is located at 85-638 Farrington Highway. For more information, call 682-9000 or visit www.usvetsinc.org
Most Recent Comment(s):