Waipahu Girls Put A Wrap On Film Comp

Wednesday - August 26, 2009
By
.(JavaScript must be enabled to view this email address)
E-mail this story | Print this page | Comments (0) | Archive | RSS
|
Share

Del.icio.us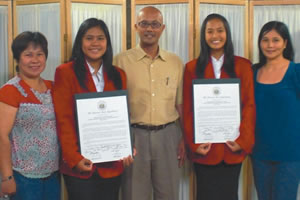 State Sen. Will Espero (center) honors recent Waipahu Intermediate graduates Jenalyn Ramos and Marianne Leano (from left, holding plaques) for their job well done in the Hawaii SkillsUSA 2009 Video Production Competition this spring. Mothers Zenaida Ramos and Mary Beth Leano join them. Photo from Sheryll Bonilla.
In years to come, former Waipahu Intermediate School students Jenalyn Ramos and Marianne Joy Leano may give Steven Spielberg a run for his money. But for now, they can rest happy with their first-place finish in the Hawaii SkillsUSA 2009 Video Production Competition in March at the Sheraton Waikiki Hotel, which secured them a spot in the nationals three months later in Kansas City.
"It was an honor and a surprise knowing it's also Waipahu Intermediate's first time entering the competition," said Ramos of the win."I was shocked knowing we placed first at the state level. We never thought we would be able to accomplish something so high it would bring us to the national level as middle school students."
Both she and Leano took home a gold medal pin and certificate for their achievements at the local and national competition.
"I'm also glad that we won 15th place in the national competition. I mean, 15th out of 40 teams around the nation is really good and amazing for middle-school students competing against all high-schoolers," Leano added.
Being among the youngest to enter the competition, Ramos and Leano worked from an informational pamphlet to design a informative video focused on the Future Farmers of America. The students only had six hours to develop a concept and script, then design, film and edit their video before presenting their project for judging.
When it came to nationals, however, the girls admit the competition was tough - all teams had to produce a 60-second commercial for the Kansas City Zoo.
"We were given four hours to storyboard, plan and videotape. At the end of the four hours, we had to submit our tapes," Ramos explained."The next day, we were given back our tapes and had another four hours to edit the video and submit it."
Teacher and WISkids Production adviser Renee Blue couldn't be happier for her students, saying helping her students achieve their dreams is something she strives for every day.
"Jenalyn and Marianne worked really, really hard to achieve all of their accomplishments. To prepare for states, the whole club met twice a week to train as well as run an after-school concession to raise money for our states' trip," Blue stated.
"They were able to raise about $5,000 to cover their trip costs."
For Ramos, video production has been a passion since she first enrolled in Waipahu Intermediate's summer enrichment program media technology class in 2007. Since then, she has been an active member in the school's WISkids Production and has volunteered for 'Olelo Community Television for the past two years.
"I realize it's more fun being behind the scenes and creating what others see," explained Ramos, who stays active in many clubs and organizations at Waipahu High School.
"Your creativity gets put to its test when you are editing; there are so many ways to portray a concept."
"I really wasn't into video production at first," admitted Leano, "but now I can actually work around it and do some editing and videotaping. She added that both she and Ramos are actively involved in co-curricular activities and look for ways to give back to the community.
One way Leano achieves that: serving as the current freshman class president at Waipahu High.
Most Recent Comment(s):