Waipahu Keiki Sitting On Top Of The World

Wednesday - May 20, 2009
By
.(JavaScript must be enabled to view this email address)
E-mail this story | Print this page | Comments (0) | Archive | RSS
|
Share

Del.icio.us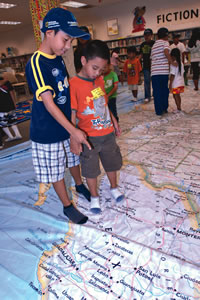 Kalei'opu'u fifth-grader Luis Martinez shows kindergartener Sean Dylan Belizon where Mexico is located on a giant map of North America. Photo by Nathalie Walker,

.(JavaScript must be enabled to view this email address)

.
Waipahu children got to experience a whole new world of learning this month, thanks to the National Geographic Giant Traveling Map.
Since May 1, students at Kalei'opu'u Elementary School in Village Park have been walking, crawling, hopping and swimming all across North America via the 26-by-35-foot map.
Fifth-grade teacher Gail Kono said she first learned about the map through Hawaii Geographic Alliance, a local affiliate of the National Geographic Society comprised of educators and community members invested in increasing geographic literacy in the state.
"I've been with the Hawaii group for about six to eight years, and this is the first year we've done this,"Kono said."My students have blossomed; in fact, you can see they feel more confident. They're learning about the geographic features and products, and the other students who normally just see the map on the wall are so excited because they get to step on the map and do different things."
Students participate in games - with names like "Color Me Green,""Let's Get Physical Features," "A Tale of Twenty Cities" and "Key to Pirate Treasure"- designed specifically to ignite interest through physical activity and hands/feet-on learning.
"The teachers have been telling me (their students) were so excited and keep talking about how they went swimming in the Pacific Ocean and those kinds of things," laughed Kono."And they've all been saying, 'Can we stay longer?'or 'Can we go again?' So that's a real plus."
Fifth-grader Chzareina Fuentes said she has enjoyed exploring geography these past two weeks because "it sounds so boring in the book, but the map makes learning a lot more fun."
Classmate Elijiah Osorio added that his favorite game is "Grocery Store Geographer," in which students toss beanbags to different regions to learn where major food crops are grown and how geographic features impact where the crops are found.
"We learned a lot. We learned about watersheds and map keys and different countries we never heard of before," he said, Chzareina chiming in with Saskatchewan and Colombia. Elijiah also pointed out the International Dateline.
"If we get a book, we're gonna have to read the whole thing, and we won't remember that much. If we have this map, we can learn a lot because we can see it every day."
The two giant North America maps, nicknamed Lewis and Clark, are based on the society's reference map series and on the continent map found in National Geographic Atlas of the World, 8th Edition. Other traveling maps available to borrow in 2009-2010 are of Asia and Africa, but Kono said the success of this experience has led to requests for a world map.
"That's something I might consider doing, even though I'm retiring this school year," she added."What I wanted to do - but because it was such a last-minute thing and the first time I'm doing it - was to open it up to the Waipahu complex. Eventually, if people want to (borrow a map), it's open to the whole state."
To learn more about the Giant Traveling Map project, for borrowing information or to download activities, visitwww.ngsednet.org/giantmaps.
For learn more, go to www.hawaii.edu/hga/.
Most Recent Comment(s):