Yamasaki's Passion For Volunteering
Wednesday - November 21, 2007
By
.(JavaScript must be enabled to view this email address)
E-mail this story | Print this page | Comments (0) | Archive | RSS
|
Share

Del.icio.us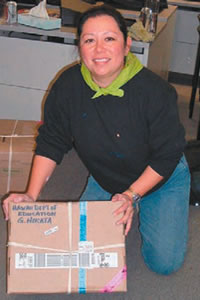 Teri Yamasaki at one of her many volunteer projects. Photo from Tricia Marciel.
Aiea native Teri Yamasaki has one message: Volunteer.
"You don't do it to get rewarded," said Yamasaki, a nursing supervisor in Kaiser's neonatal intensive care unit. "But you always get more in return. The focus is the victims and survivors - it's all about helping them. Everyone's focus is on getting people to take care of each other."
Yamasaki earned the David Lawrence Community Service Award last year for helping out with a medical mission in Sri Lanka after the Indian Ocean tsunami in 2004. It was during that award presentation that she was recruited as one of 34 Kaiser Permanente employees to spend a week in the Biloxi, Miss. and the New Orleans area to help people rebuild their lives after Hurricane Katrina. The first stop was in Biloxi, where volunteers painted a medical clinic and cleaned up a park. Yamasaki noted that one of the most memorable moments was in New Orleans when the group helped unload boxes of donations sent to an inner-city school.
"The first thing we opened was a box of donated school supplies from the Hawaii Department of Education," she said. "It was surreal - a real chicken skin moment."
Yamasaki pointed out that one of the challenges of volunteering is that it does take some hard work.
"It's not a bad thing," explained Yamasaki."What helps is that I have a nice support system with Kaiser, my family and my church."
Yamasaki encourages others to help by logging onto www.handsonneworleans.org or www.handsongulfcoast.org
Yamasaki said that if you can't travel to volunteer, you can offer support in other ways. She emphasized, "You're helping someone, and they appreciate it."
Most Recent Comment(s):