Young Poet's Work Makes 'Highlights'
Wednesday - July 04, 2007
By Lisa Asato
E-mail this story | Print this page | Comments (0) | Archive | RSS
|
Share

Del.icio.us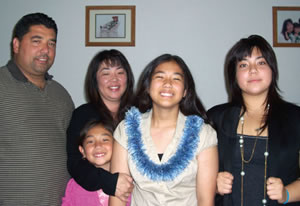 Breana Schwartz (with lei) stands with (from left), her dad
Ray, mom Leanne, and sisters Shelby and Tara. Photo
from Leanne Schwartz.
Eleven-year-old Breana Schwartz of Ewa Beach has had a poem of hers published in the May issue of Highlights for Children, a national magazine with a circulation of about 2 million.
The monthly magazine receives about 35,000 submissions each year, and Schwartz's poem had the honor of being among the less than 2 percent of drawings, poems, stories, jokes, riddles, recipes, book recommendations and letters to the editor that make it into print.
Her poem, People See God Every Day - They Just Don't Recognize Him, starts with the following lines:
People see God in my sister Tara and in my daddy and mommy. People see God on Maipuhi Place in Ewa Beach on sunny days.
People see God in church, at the Ewa Seed Company, in Venus, my dog, and in a run-over frog.
She wrote the lines when she was 9. Now 11 and entering Moanalua Middle School in the fall, the daughter of Ray and Leanne Schwartz took the news about People See God Every Day rather calmly.
"I think I was more happy than she was," Leanne said, adding that Breana's reply to the question,'Wow, do you know how good that is?' was simply, 'Do I get a prize?' "
Breana, whose work has also been published in another children's magazine, Skipping Stones, didn't receive a prize. But her hanai aunty, author Lois-Ann Yamanaka, gave her a nice T-shirt, and "we gave her a Borders gift card - that's what she likes," said Leanne, who credits Na'au school for teaching writing skills and encouraging her daughter to submit her poetry to Highlights. The school, near downtown, is led by Yamanaka and Melvin Spencer III, who was Leanne's high school English teacher at Radford.
"When I found out he had opened this school and I knew that my daughter needed help with her English and grammar, I thought that was a good thing to do," she said.
Breana, who has two sisters, Tara and Shelby, also writes shorts stories. She's a cellist in the Hawaii Youth Symphony and is a fan of manga, or Japanese anime. Leanne said People See God Every Day included stanzas that were omitted in the publication, in which Breana described things like seeing God in a homeless woman lying in a sleeping bag on the side of the road. The youngster often asks about homeless people she sees and wonders why they're there, Leanne said, adding, "She's more like a quiet
Most Recent Comment(s):