Young Rock Band Heads To Anaheim
Wednesday - January 17, 2007
By Kerry Miller
E-mail this story | Print this page | Comments (0) | Archive | RSS
|
Share

Del.icio.us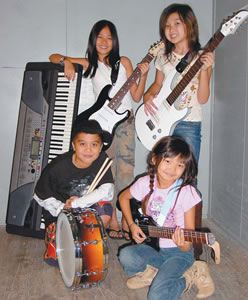 MusicWorks students Kira, Mari, Elias and Ezri
will rock the NAMM convention in California.
Photo courtesy of Hawaii MusicWorks.
A group of young amateur rockers are getting the chance of a lifetime: The rock band, made up of students from Hawaii MusicWorks in Pearl City, will travel to the National Association of Music Merchants Show 2007 this week, where they'll perform for the convention's crowd in the same place as some musical greats.
"They're the only ones from Hawaii (playing at the NAMM show)," said Hawaii MusicWorks owner, Mark Santos.
Members of the band are 10-year-old Kira, who plays guitar, keyboard and sings. Mari, also 10,plays guitar,keyboard and adds vocals. Ezri,7,is the third guitarist-keyboardist-singer; 10-year-old Elias is the drummer, and two older students, Kaci and Elijah, both 16, play bass.
The NAMM Show is an international music industry convention happening Jan. 18 to 21 at the Anaheim Convention Center in California. The MusicWorks band will play in the center's main hall on Jan. 20.
Santos explained that the yearly convention is not only about showing off the latest trends, products, etc. in the music industry, but is also "about promoting music education in the community."
As part of its efforts to promote music education, NAMM features school-aged musicians at its event. Santos, whose program is one of several rock music schools in the country, got his students a spot on stage by sending in a video of them performing.
"(The band will play) about an hour's worth of material - main stream pop rock, like Ali and AJ, Michelle Branch,"said Santos. "Other groups are playing - other rock school participants, Earth Wind & Fire - we're all mixed in with all the musical celebrities.You can walk down the hall and see Kelly Clarkson or people from Linkin Park.You can rub elbows."
Santos is proud of his students, not only for making their first appearance at the NAMM show, but also because they're the youngest performers at the convention.
Kira, Ezri, Mari and Elias "started when they were 8 and 6 in this whole thing.Two years ago they finished traditional lessons in piano and started to get interested in the rock school program. Their voices are the only thing that gives (their age) away," said Santos, in light of the seasoned quality of their music.
Hawaii MusicWorks is located at Pearlridge Center Uptown. The school currently enrolls about 650 students. For more information, call 486-8600.
Most Recent Comment(s):