Ex-lawyer Writes Own 'Paradise' After Move To Kapolei

Wednesday - April 28, 2010
By
.(JavaScript must be enabled to view this email address)
E-mail this story | Print this page | Comments (0) | Archive | RSS
|
Share

Del.icio.us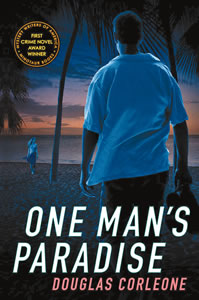 Cover image courtesy of Minotaur Books.
Kevin Corvelli is a disgraced criminal defense lawyer on the lam. After being hounded by the modern media for years, he finally decides to flee his life in Manhattan for a new start in Honolulu. However, as Corvelli quickly discovers, "paradise" can be just as hard-knocks.
If this sounds like the makings of a page-turning crime novel, well good, because it is. One Man's Paradise is local author Doug Corleone's introduction to the crime-writing genre.
"Fortunately, the events that led to Kevin's move to Hawaii were nothing like the events that led to mine," joked Corleone, who arrived in the Islands with wife Jill in late 2005.
Like his protagonist, however, Corleone practiced as a criminal defense attorney in New York City, living the fast-paced lifestyle that comes with being in the City That Never Sleeps. But his true ambition was to write fiction. He admits, in fact, that the legal thrillers so popular in the 1990s are what led him to law school in the first place.
But as any writer worth his salt knows, he said,"It takes time and focus to write book-length fiction, and I didn't feel I had enough of either."
With Jill's OK, the couple decided to make the big jump from New York to Hawaii, eventually settling in Kapolei.
"The day we first touched down in Honolulu, our lives slowed down considerably ... and it was wonderful," Corleone said. "I greatly enjoyed the change in culture - in fact, I probably needed it.And the culture clash definitely inspired much of my novel."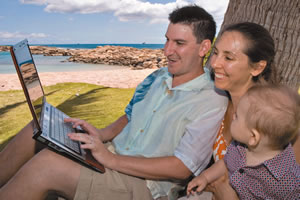 Jill Corleone and baby Jack help Doug Corleone work on the sequel to his award-winning debut novel 'One Man's Paradise' on the beach in Ko Olina. Photo by Byron Lee

.(JavaScript must be enabled to view this email address)

.
Corleone already is at work on his follow-up book, tentatively titled Night on Fire. In this sequel, Corvelli finds himself again battling a myriad of personal issues he has outside of his law career.
"That, I think, will allow me to keep his character fresh for many books to come," Corleone said. "With One Man's Paradise I built a universe I enjoy spending time in, and I populated that universe with characters I enjoy spending time with."
Two characters the author also enjoys spending time with: Jill and their son Jack.
"Jack is still an infant, but he's already a fan of the ocean, and I look forward to teaching him to swim, snorkel, kayak and anything else I know.
"And I'm hoping that as he grows up, I'll learn a few things myself, like how to surf. Unfortunately, there's not much surfing in New York City, and I feel like I've missed out. But I'm 34; there's still time ... I think."
While One Man's Paradise hits bookshelves nationwide April 27, it already has generated plenty of buzz in the literary world. Corleone's debut novel received the 2009 Minotaur Books/Mystery Writers of America First Crime Novel Award, and with the award came a book contract with one of the Big Six publishing houses in New York, St. Martin's Press.
"Everyone (at St. Martin's Press) was so welcoming. I felt as though I had been in the industry for years," he said, adding that at the same time he feels overwhelmed with the newness of promoting his first work.
"There are a lot of firsts ahead of me in the coming months - bookstore and library appearances, readings and signings - and I would like everything to go smoothly."
Corleone will be at several events within the coming months: 1:30-2:30 p.m. this Sunday, Barnes & Noble Ala Moana; 1-2 p.m. May 8, Borders Waikele; and 1-2 p.m. June 5, Barnes & Noble Kahala Mall.
He also will give a presentation at 4 p.m. May 16 in the Author's Pavilion at the Hawaii Book and Music Festival at Honolulu Hale, immediately followed by a book-signing at the Barnes & Noble Booksellers tent.
For updates and more information, you can search his Web site www.douglascorleone.com.
"Hawaii is as much a character in this series as Kevin Corvelli himself," Corleone added."It's a different, darker Hawaii than most of us know, but it still has its mountains and beaches and rainbows.
"I hope residents and visitors alike will feel that I've created a fine sense of place," he added,"that they'll recognize hotels, bars and restaurants, even if the names have been changed. But most of all, I hope to capture the genuinely good nature of Hawaii's diverse people.
"It's those people who keep me most inspired and that, indeed, keep me and family in the Islands."
Most Recent Comment(s):