Jade Bright: Our 'Teacher Of Promise'
Wednesday - January 31, 2007
By Lisa Asato
E-mail this story | Print this page | Comments (0) | Archive | RSS
|
Share

Del.icio.us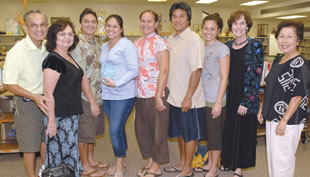 Jade Bright (fourth from left) is honored by family and DOE
members as the Castle Complex Schools' "Teacher of
Promise." With her are (from left) Ron, Moira and Michael
Bright, Stephanie, Gary and Tori Anguay, Ahuimanu
Elementary principal Anne Marie Duca and former
district superintendent Ruby Hiraishi. Photo by Nathalie
Walker, .(JavaScript must be enabled to view this email address)
The inaugural Teacher of Promise award for the Castle schools complex has been awarded to Jade Anguay Bright of Ahuimanu Elementary, where she's become a leader in and out of the classroom during her first year of teaching there.
"She never takes the quote 'easy way out,'" said principal Anne Marie Duca, who nominated Bright for the award."Everything she does has to have meaning and relevance to the kids."
Given by the National Milken Educators of Hawaii, the award honors outstanding public school teachers during their first four semesters of teaching. It included a gift package and plaque.
As a sixth-grade teacher, Bright "really embraced" the complex's character-education program, which emphasizes the five R's of respect, responsibility, resourcefulness, relationship and resiliency, Duca said.
She developed a "sense of community within her classroom" and then expanded it to the whole grade level. For May Day, for example, she taught the Kamehameha Waltz to all the sixth-graders ."It was absolutely incredible," Duca recalled. "She had all the children convinced they would be able to beautifully dance the waltz.
"Whatever she teaches she makes it come alive for the children."
Bright also worked with Patti Marshall, the just-retired school librarian, to develop research projects to promote critical thinking skills, and - rather rare for new teachers, according to Duca, she volunteered to attend state standards meetings and then conducted faculty training.
Bright, who grew up in Waiahole Valley, currently teaches third grade at Ahuimanu, though she began her career at Puohala Elementary. A cum laude graduate of Chaminade, an accomplished performer and 1989 Castle High graduate, she is married to Michael Bright, son of Castle's retired drama legend, Ron Bright.
Other teachers honored at a Jan. 13 awards lunch are state Teacher of Promise Natalie Rodrigues of Mililani Waena and school complex winners Maile Bajet of Aiea Elementary, Lanelle Oshiro of Manoa Elementary, Kirstie Akana of Waiau Elementary, and Eddeille Boado Thomas of Kohala Elementary. The award will alternate yearly between elementary and secondary school teachers.
Mokulele Elementary principal Teri Ushijima, 2006 Milken Family Foundation National Educator Award, was also recognized at the luncheon.
Most Recent Comment(s):