Learn How To Get A Dancer's Body
By
.(JavaScript must be enabled to view this email address)
Friday - January 25, 2012
|
Share

Del.icio.us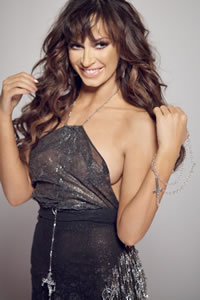 Reigning 'Dancing with the Stars' champion Karina Smirnoff. Continuum Entertainment photo
Reigning Dancing with the Stars champion Karina Smirnoff brings her DanceFIT tour to Hawaii this week with classes offered exclusively at Marriott resorts on Kauai, Big Island, Maui and Oahu.
The professional ballroom dancer will show how to get a dancer's body in four weeks, inspired by her popular Shape Up with Karina Smirnoff DVD. The class lasts about 45 minutes to an hour, and will be followed by Q&A with the star.
"Dancing is definitely very athletic," says Smirnoff, 33. "People who do ballroom dancing are rarely out of shape, and the best part of dancing is it targets different muscle groups at the same time.
"When you dance, you get the best workout I think you can possibly get, and on top of everything you don't even realize that you're working out because you're having fun."
The DanceFIT program is a dance-inspired fitness experience. According to Smirnoff, you're not necessarily going to learn how to dance, but you will get the same workout that you would get dancing.
"I teach dance too, but that's a completely different class. This is pure workout," she explains. "You should wear your sneakers, your workout clothing and be prepared to sweat pretty heavily.
"Some of the exercises are the exercises that dancers do to maintain a stronger core and leaner muscles, and it's a great cardio workout. You don't need to have a dance background. You don't need to even know how to dance or be athletic.
"The dance moves are a mix of some of the Latin dances, a mix of salsa, but what I do is I take a dance move and I twist it, I turn it and I tweak it, and create a step that will get your abs working, your love handles diminishing, your cardio going. So you're not doing just your basic salsa."
In addition to being on the move all the time, Smirnoff also maintains a healthy diet.
"I allow myself to have cheat days and cheat meals for sure," she admits. "But I do watch what I eat and how much I eat. I love spinach, and creating different dishes with spinach. You can steam it, put it in a sandwich, make a salad it's probably one of the most highly consumed products that I eat. I also love fish, and I'm not big on meat.
"I believe that when you eat something that you grow rather than being processed, it's so much better for you. I'm not a big fan of a lot of processed foods. Red bell peppers are my on-the-go snack."
Smirnoff also reveals that she takes a teaspoon of olive oil every morning on an empty stomach followed by some warm water as a natural remedy.
"To me, it's one of the best things for everything," she explains. "Everything you eat afterwards is going to come out faster and not sit in your stomach. You can do an olive oil hair mask, and olive oil with water to use as makeup remover. I think olive oil is underused and undervalued. It's like a hidden secret.
"Half of my family is Greek, and my mom would always say to me, before you start your day, just take a teaspoon of it. It's very huge in Greek culture."
Smirnoff has been one of the professional dancers on ABC's Dancing with the Stars for the past six years. She and celebrity partner J.R. Martinez recently were crowned the winners of Season 13.
Before joining the show, she also was the winner of five U.S. National Championships, the U.S. Open, the Asian Open and the U.K. Open. She also was ranked No. 2 in the world.
Smirnoff, who was born and raised in Ukraine, lives in Los Angeles, where she also has a dance studio incorporating competitive and social classes, as well as a scholarship program directly related to her charity, Dance Intervention, a division of Alternative Intervention Models.
Cost for the upcoming DanceFIT class at Marriott Hawaii is $30. On Oahu, the classes will take place Jan. 31 at 4 p.m. at Waikiki Beach Marriott Resort & Spa, and Feb. 1 at 4 p.m. at JW Marriott Ihilani Resort & Spa.
For Waikiki Beach Marriott, individual ticket purchase is available beginning at 3:15 p.m. prior to the DanceFIT session. Go to the hotel's Pualeilani Terrace Paokalani Tower, located on the third floor. For more information, call 922-6611.
For JW Marriott Ihilani Resort & Spa, individual ticket purchase is available at the hotel's concierge desk. Call 679-0079.
For more information, visit karinasmirnoff.com or follow her on Twitter @karina_Smirnoff.
Most Recent Comment(s):