Aloha Chapter Is Here To Help
By Daniel Ward
Wednesday - December 07, 2011
Share

By Daniel Ward, MPA, PR & Volunteer
Coordinator, Alzheimer's Association
The holidays are a season when families gather to spend quality time with each other. It is also a time that can raise serious questions about the cognitive health of aging family members. In Hawaii, there are an estimated 31,000 individuals living with Alzheimer's disease and related dementias. Although caring for someone with Alzheimer's can be a costly and difficult process, the Alzheimer's Association, Aloha Chapter offers numerous support services at no cost to family caregivers. Chapter services include caregiver training, educational workshops, care consultations, support groups, general information and referral, online resources and the MedicAlert+Alzheimer's Association Safe Return program.
Tim Smith, a caregiver for more than 10 years, is thankful for the help the Alzheimer's Association has provided his family. After Tim's wife Melinda was diagnosed with Alzheimer's disease, "she became increasingly forgetful and socially withdrawn," Tim recalls. "It got to the point where we would stay in our house for days at a time."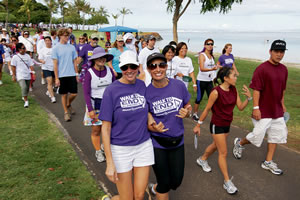 Aloha Chapter board member Suzie Neufeldt (left) and Trini Kaopuiki of KHON2 News join in last year's walk. Photo courtesy Alzheimer's Association
Five years following Melinda's diagnosis, she became verbally abusive and easily agitated toward her husband. "This was a lonely and confusing period in my life because I felt lost and had no idea where to turn for help," recalls Tim. "I love my wife and wanted to help her. I just didn't know how."
After months of searching, one of Tim's co-workers referred him to the Alzheimer's Association, where he was able to attend free workshops, receive care consultations and participate in support groups. "Prior to receiving all of these services, I had no idea the Aloha Chapter provided so many great resources for family caregivers," says Tim. "I highly recommend the support groups because you receive great advice from people familiar with the disease."
The Alzheimer's Association, Aloha Chapter is a 501(c)(3) nonprofit, donorsupported organization. Programs and services are made possible through contributions from individuals, corporations, foundations and from the Walk to End Alzheimer's each year. For more information about the Alzheimer's Association's support services, events, volunteer opportunities, or to make a donation, please visit alz.org/hawaii or call our 24/7 Helpline at 1-800-272-3900 toll-free statewide.
Hawaii charitable organizations may send requests for space in either Proof Positive or the free advertisement below to dchapman@midweek.com.
Most Recent Comment(s):