Guiding Victims To Safety
By Leslie Cintron
Wednesday - December 28, 2011
Share

By Leslie Cintron,
Representative, Ala Kuola
Founded in 2006, the mission of the Hawaii Family Law Clinic, doing business as Ala Kuola, is to assist victims of domestic violence to attain safety, peace and healing.
Our services include assistance with filing a petition for temporary restraining orders (TRO), court assistants who act as neutral parties to facilitate discussions between the petitioner and the respondent, and outreach services on Oahu. Families and individuals are referred to additional services such as counseling, shelter, legal services and advocacy.
To obtain a TRO, at least one of the following relationships between petitioner and respondent must apply: spouses, former spouses, persons who are or were formerly dating, persons who have a child in common, persons related by blood, and persons jointly residing or formerly resided in the same dwelling. Parents may also file on behalf of their children, and family or household members may file on behalf of an incapacitated person.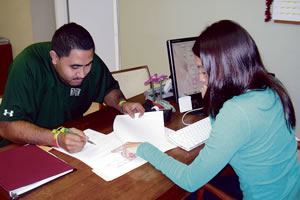 Ala Kuola can assist victims of domestic violence to file for temporary restraining orders
In 2010 Ala Kuola assisted with approximately 36 percent of all cases docketed on Oahu, and in 2011,Ala Kuola assisted with 36 percent of all cases filed in Honolulu.
Mr. and Mrs. Q, who are both in their late 70s, have a middle-aged son who is a substance abuser. When their son got violent toward them, they turned to Ala Kuola to file a TRO in order to protect themselves.
Ms. M, aged 23, was experiencing a difficult pregnancy and about to give birth. Even from the hospital, she was being threatened by her boyfriend. Ala Kuola provided outreach services to her at the hospital and assisted her with the filing of the TRO.
Securing funds is always a major challenge, and a fundraising initiative is scheduled for 2012. Monetary donations would be greatly appreciated. We can be contacted at 545-1880 or email us at .(JavaScript must be enabled to view this email address). Ala Kuola conducts intake services Monday through Friday from 8 a.m. to 4:30 p.m., and is closed on all state and federal holidays.
Hawaii charitable organizations may send requests for space in either Proof Positive or the free advertisement below to dchapman@midweek.com.
Most Recent Comment(s):