Helping Oahu's Public Schools
By
Wednesday - November 23, 2011
Share

By Kathie Wells, Founder
Community Helping Schools
Did you know that many of Hawaii's public school teachers have to use money out of their own pockets to buy school supplies for their classrooms and students? This includes basic supplies such as dry erase markers, notebooks and pencil sharpeners. With programs getting cut and budgets limited, Hawaii's public schools do not have the extra funds to provide their classrooms with the necessary supplies needed to teach.
This need is why Community Helping Schools was started. Since 2000, we have been dedicated to helping Hawaii's public schools obtain the supplies and resources needed to enrich the education of our keiki. We serve as a catalyst and conduit to Oahu public schools to match classroom resource needs with community donors.
Through our organization, it is easy for people to help teachers and students with supply needs. Interested donors go to the Community Helping Schools website and browse the wish list by school, teacher or items needed. When a donor has identified a wish they'd like to fulfill, they simply click the "donate now" button and email us! We then work with the donor to facilitate delivery of the donation to the designated teacher.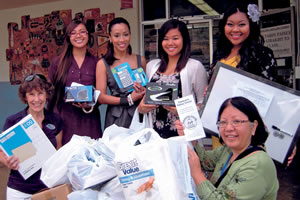 Donations to Dole Middle School. Pictured (from left) are Kathie Wells, Janette McKeone, Valerie Ragaza-Miao, Reisha Satauye, Rowena Salanga and Wendy Horikami. Photo courtesy Community Helping Schools
We are truly a grassroots, volunteerdriven organization. I am sincerely humbled and always amazed by the unwavering generosity of our volunteers, local businesses and community. It is because of their continuous support that we've been able to provide more than $500,000 worth of supplies and resources to Oahu's public schools. Through the years, we've been able to provide classrooms with a myriad of supplies and resources such as paint, notebook paper, pens and office furniture. Recently, Pohakea Elementary School in Ewa Beach received a donation of an organ and was able to start a music program at their school.
As the holiday season approaches, please consider fulfilling a wish for one of our many classrooms. Currently, the most requested items are DVD players, fans, whiteboard markers and printer ink cartridges. Both new and gently used items are accepted, and monetary donations to purchase supplies are always greatly appreciated. For more information, visit communityhelpingschools.org or email .(JavaScript must be enabled to view this email address).
Hawaii charitable organizations may send requests for space in either Proof Positive or the free advertisement below to dchapman@midweek.com.
Most Recent Comment(s):