Impacting Learning Through Service
By Merle Okino O'Neill
Wednesday - December 14, 2011
Share

By Merle Okino O'Neill,
Executive Director, Youth Service Hawaii
Most of you have probably participated in some type of community service. But how many of you know how service learning can improve student achievement and engagement, while helping youths develop life skills? Can running a food drive, cleaning the beach or bringing food to homebound elderly impact academic learning?
That is the goal of Youth Service Hawaii (YSH). YSH works with public and private teachers statewide to make service a part of academic learning. Service learning is a teaching and learning strategy that integrates meaningful community service with instruction and reflection to enrich the learning experience, teach civic responsibility and strengthen communities. Through service learning, Hawaii's youths use what they learn in the classroom to solve real-life problems. They learn the practical applications of their studies, while becoming contributing citizens through the service they perform.
While service learning is similar to community service, it aims to be a more in-depth educational experience. Students have cleaned beaches and provided valuable service as volunteers. However, if students studying science collect beach trash, analyze the findings to determine the possible sources of pollution and share the results with local residents, they are engaging in service learning. Additionally, students are learning about water quality and developing an understanding of pollution issues and practicing communications skills. These activities become transformative for students and community.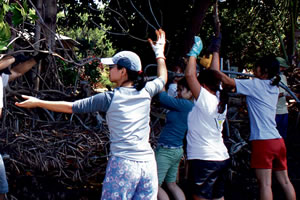 Youths working on a service project. Photo courtesy Youth Service Hawaii
YSH includes a variety of service learning projects. For example, Waianae Elementary students observed an increase in obesity among fellow students and are now organizing a community food, health and fitness education fair. Ewa Makai Middle students are learning about ecosystems and building portable growing gardens, which will be donated to homeless shelters. Waipahu High students are researching health and disease statistics, and are organizing community health fairs for high-risk and underserved neighborhoods.
Since 1996, YSH has been engaging youths as active, compassionate citizens through service and learning. YSH provides teachers and students with training, grants and curriculum ideas and samples, and brings together service learning practitioners in the community. To see the students in action, join us March 31, 2012, at the Service Learning Showcase at Windward Mall.
For more information, visit youthservicehawaii.org.
Hawaii charitable organizations may send requests for space in either Proof Positive or the free advertisement below to dchapman@midweek.com.
Most Recent Comment(s):