Inspiring New Leaders
By Marie Parducho
Wednesday - January 18, 2012
Share

By Marie Parducho, Member and Former Co-Vice President, FAMES
The Filipino-American Multi-Ethnic Society (FAMES) is committed to mentoring, educating and motivating leaders in the community. Through business networking, we share our skills and support for one another, regardless of ethnicity, financial means or economic status. FAMES, a 501(c)(3) local nonprofit organization, was created to promote and develop strong leadership.
In addition, FAMES provides not only business support to entrepreneurs and business owners, but also community support for various organizations by hosting fundraisers, collecting and making donations to groups including the Hawaii Red Cross chapter, National Kidney Foundation and Domestic Violence Shelter. We also partnered with the 2010 Census in the state of Hawaii. In May 2011, FAMES was one of the supporters of the Arthritis Walk, which included collecting money and participating in the walk.
Joni Redick-Yundt, CEO and founder of FAMES, is the pillar of unending energy and positivity for the organization. Joni has established herself as an entrepreneur, a community leader and author.
"Due to many of my contacts in the local business world contacting me with requests for guidance with a start-up business or entrepreneurial launch," she explains, "I realized a great need within the community for mentoring new business owners and providing an arena for collaboration, support and leadership development."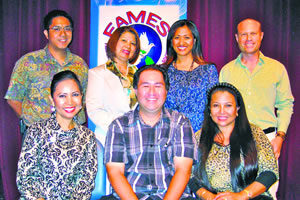 FAMES officers: (back, from left) Raphael Ramos, Rosalinda Malalis, Jeanice Geyrozaga and Michael Borger, (front) Joni Redick-Yundt, Brodi Goshi and Emmie Anderson
FAMES is comprised of all volunteers working together to pursue its mission.
We meet the first Wednesday of each month at Dave & Buster's Ward Entertainment Center showroom. Meetings are open to the public and give everybody the opportunity to meet members of FAMES. FAMES also invites speakers from businesses and the community to share their expertise, and gives attendees the opportunity to network and share information about their businesses.
FAMES also hosts two larger events during the year. In the summer, we host an annual workshop with keynote speakers from the Mainland and Hawaii to provide guidance and inspiration for aspiring entrepreneurs and small-business owners. Also, later in the year, FAMES hosts its annual fundraiser gala with silent and live auctions and entertainment, to help defray the costs of the annual workshop and offer financial support to other nonprofit organizations.
For more information, visit fameshawaii.com.
Hawaii charitable organizations may send requests for space in either Proof Positive or the free advertisement below to dchapman@midweek.com.
Most Recent Comment(s):