Providing Slippers, Toys And More
By
Wednesday - December 21, 2011
Share

By Lynn Vasquez, president and co-founder,
The Slippah Foundation
Six years ago on an online bulletin board, the question "What do you want for Christmas?" was asked. I answered, "I wish for all the children of Mayor Wright Housing to have a pair of rubber slippers so they won't have to go barefoot."
Mayor Wright Housing is a public housing facility located in Honolulu. One day, I saw several boys playing football barefoot and promised myself I would get them footwear.
Fellow online members asked how they could help, and soon the simple request snowballed into "The Slippah Project," and later The Slippah Foundation.
We started at Mayor Wright Housing, and our recipients grew to include other public housing and homeless shelters on the Leeward Coast and throughout the entire island. We even sent slippers to Kauai, Maui and the Big Island.
In addition to providing children with slippers, we also give them toys, and provide new and used clothes and canned goods to people of all ages.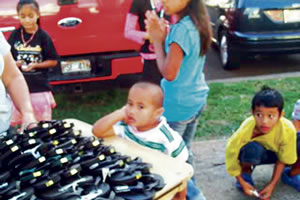 Delivering slippers to keiki. Photo by Lynn Vasquez
In order to help provide those in need with slippers and other goods this holiday season, we need your help. We accept donations of all of the items listed above, as well as monetary donations and of course we accept slippers.
We don't receive any grants. Our donations are from everyday folks. Scott Hawaii is our sponsor.
The Slippah Foundation became a 501(c)(3) nonprofit in 2009. The economy is rough right now, but we do what we can. Our mission is simple to seek and help those who are in need. The Slippah Foundation wants to continue to spread joy to families in need a goal that you can help us achieve.
Tonight (Dec. 21), our annual Mayor Wright Housing Christmas Celebration starts at 6 p.m. We also will be making donations on the Leeward Coast Dec. 24.
To make an online donation or for more information on ways to donate or participate in the season of good will, visit slippah.org or call Lynn at 847-2221.
Hawaii charitable organizations may send requests for space in either Proof Positive or the free advertisement below to dchapman@midweek.com.
Most Recent Comment(s):