Stamping Out Violence
By Steve McLaughlin
Wednesday - January 04, 2012
Share

By Steve McLaughlin, Instructor, Kupale Domestic Safety & Assault Prevention Program for Women and Children
The Kupale Domestic Safety & Assault Prevention Program for Women and Children is a modern and updated course presented and supported by Hawaii Zenyo Jujutsu Kai. Our original program began here in Hawaii in 1926 and was taught by the famous martial artist and massage therapist, professor. H.S. Okazaki. He also wrote one of the first books on women's self-defense in the United States in 1929.
Our program focuses on teaching mothers and daughters how to recognize and deal with violence before it starts and what to do to escape from it. The knowledge you gain in this course is invaluable, even if you were only able to sit and watch.
The complete course is only four hours long, usually taught on the third Sunday afternoon of each month. We cover more than 30 subjects in the training. It is not necessary to be in shape for our course.
You will learn how to escape from nearly any assault situation.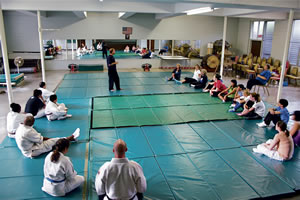 Steve McLaughlin leads a class. Photo courtesy Steve McLaughlin
Topics include how to deal with a dog attack, how to change a flat tire (in 30 seconds!), how to make a police report and work with a police sketch artist, and the laws concerning assault. The course also includes information about daterape drugs, counseling services advice, college campus safety, first aid, methods of surviving an assault after the fact and much more. This is one of the most complete course in self-defense and assault prevention taught anywhere in the world.
More than 12,000 women and children in Hawaii have taken this highly successful course. Our participants come from hospital staffs, banks, women's business groups, military wives clubs, the Boys and Girls Clubs, Girls Scouts, churches, women security guard groups, real estate sales staffs and social workers. We also have taught our program to women and children in wheelchairs and for state programs for the blind.
Classes are held at the Daijingu Shinto Temple of Hawaii in Nu'uanu. To register, visit kupale.org. For more information, call 595-7175.
Hawaii charitable organizations may send requests for space in either Proof Positive or the free advertisement below to dchapman@midweek.com.
Most Recent Comment(s):