Student Actors Learn, Have Fun
By MJ Matsushita
Wednesday - November 30, 2011
Share

By MJ Matsushita,
Technical Director, KHSPAC
Drugs, gangs, homelessness and suicide: These are a few of the issues some of our students have to deal with on a day-today basis. Kaimuki High School Performing Arts Center (KHSPAC) is one place many of our troubled kids can come for a safe haven. KHSPAC is a place where they can express themselves. Most importantly, they learn that family means having a support system there when they need someone to talk to, or just get a hug.
There are many situations in which students choose to be involved with the group as a way to gain support in the face of difficult times at home or in relationships. And students often come here instead of making dangerous or destructive choices.
We also offer all students a place to learn skills they can take into any career. Many have continued on to film, Broadway, regional theatre, television, fashion design and other performing arts careers. Others have gone on to become entrepreneurs, lawyers and teachers.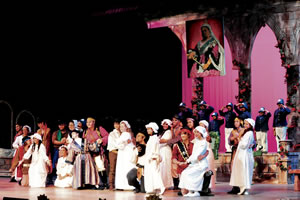 Students performed 'The Pirates of Penzance' last spring
KHSPAC has been working with public school students from all over the island for 25 years, using theatre as a vehicle for learning life skills. Every year we do a play for thousands of elementary school children, and a musical with a cast of students from all grade levels. These productions, along with classes at the high school, are a part of the Learning Center for Performing Arts. Over the years, however, our funds have been threatened and reduced.
How can people help us to continue this work? Come to see our shows. To hear a full house applauding them is the best prize the community can give these kids. Our next show is Grease, which opens Feb. 17 and plays for three weekends until March 4. And we currently are trying to match a grant from the Hawaii Alliance for Arts Education. Every dollar will help. Donations can be sent to Kaimuki High School, Attn.: MJ Matsushita, 2705 Kaimuki Ave., Honolulu, HI 96816. Make checks out to KHSPAC. Donations are tax-deductible, and a thank-you letter will be sent for tax purposes.
Hawaii charitable organizations may send requests for space in either Proof Positive or the free advertisement below to dchapman@midweek.com.
Most Recent Comment(s):