Teaching Life Skills Creatively
By Dr. Gabrielle Toloza
Wednesday - December 29, 2010
Share

By Dr. Gabrielle Toloza, Founder
Creative Connections Foundation
Having friends is something every parent worries about for their child, especially a child with special needs. Social skills are naturally acquired by most children through their daily play experiences. For some, however, learning to communicate feelings, make a friend, have a conversation or play a simple group game is the ultimate challenge. Creative Connections Foundation (CCF) is a local nonprofit that strives to increase these necessary life skills in children with autism and other developmental challenges.
I established Creative Connections Inc. in 2009 after learning from my work with Hawaii's families that there were no structured, socially based enrichment programs that adequately met the intensive needs of children with developmental disabilities.
To meet this need, I gathered together a group of energetic, dynamic, educated, well-trained and motivated young, professional women to set up shop in Windward Oahu.
In the past two years CCF has serviced about 40 local families. Our primary objective is to offer a variety of programs that aim to improve the social, emotional and behavioral needs of children, adolescents and young adults.
Programs include semi-structured and unstructured multi-sensory activities built on children's strengths and personal interests; weekly cooking lessons and related life skills lessons; daily physical activity to address fine and gross motor development; and other activities aimed at improving peer-to-peer interactions, self-help skills, group attention, compliance, functional communication, emotion regulation, problem-solving and positive coping strategies.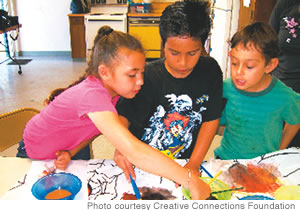 Creativity Art allows children to develop self-expression, sensory awareness and social skills like sharing and cooperation
We go on community outings two to three times a week, and we also offer a junior leadership program where older children learn responsibility, job skills and increased empathy for others.
CCF currently offers full- and half-day enrichment programs during school breaks, as well as Camp S.E.E.K. (Social Enrichment for Exceptional Kids), a therapeutic summer day camp. Programs are open to children ages 5-18.
For further information about participating in available programs, making a donation or otherwise supporting CCF, please e-mail me at .(JavaScript must be enabled to view this email address).
Hawaii charitable organizations may send requests for space in either Proof Positive or the free advertisement below to dchapman@midweek.com.
Most Recent Comment(s):