Five-O What's New for Season 2
In a world exclusive prior to season two, Daniel Dae Kim, Scott Caan, Alex O'Loughlin and Grace Park talk with MidWeek about themselves and the show. The first episode, says O'Loughlin, is 'really good'

Wednesday - September 07, 2011
By
.(JavaScript must be enabled to view this email address)
E-mail this story | Print this page | Archive | RSS
|

Del.icio.us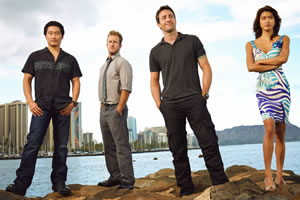 (from left) Daniel Dae Kim, Scott Caan, Alex O'Loughlin and Grace Park are back for a second season of fighting crime. All story photos courtesy of CBS.
In a world exclusive, the stars of the hugely popular Hawaii Five-0 - it's in 200 markets - talk about themselves and the second season
Last time we saw the Hawaii Five-0 team, things weren't looking good. Kono was arrested for stealing $10 million from the evidence locker. McGarrett has been arrested for two murders, including the governor's. Danny is making plans to leave the island with his pregnant ex-wife. And Chin Ho is back with HPD. Basically there is no Five-0.
What's a poor fan to do?
Well, you crank up the volume and blast that infectious theme song because planes will soon be depositing fellow Hawaii Five-0 fanatics from around the globe, and you can bet they'll be staking out prime sand space even the night beforehand. In other words, the Waikiki Beach Season 2 premiere is at hand!
Before the global media descend on our hanai Five-0 family, they give MidWeek this season's first sit-down with the lead cast a world exclusive for a show seen in more than 200 international markets.
Today they're shooting episode 4. Alex O'Loughlin, Scott Caan and Daniel Dae Kim are on set, but the lady next to them isn't Grace Park. She's the team's new addition, blond bombshell Lauren German (Happy Town, Hostel: Part II).
"Quiet on the set. Action!" The dogs also obey, quietly lying down-all three leading men have settrained pooches. Two minutes later the sudden bustle and hubbub indicate that the scene has ended and O'Loughlin, all smiles and energy, runs over.
ALEX O'LOUGHLIN
He's quick at mastering accents and is disarmingly affable. Though expected, his Australian accent is still surprising, "All right, ask me a question." And that's how it goes ... a few words with him between takes. He's on set five to six days a week, filming 12 to 16 hours at a time (one day equals five to seven minutes of broadcast time). Today he has 12 pages of script to memorize.
How do you rise to the challenge of such a demanding filming schedule, particularly on a "down" day?
McGarrett demands a huge amount of energy. He's a crazy guy. He's always ready for anything. If you play a character like that, you can't pull it down to your level. You've got to reach up and you've got to be on. He's one of those guys who could very well die early in life because of the choices he makes, for the right reasons. Some days it's exhausting and it's like I don't want to play McGarrett today, I want to play Danny or Kono (laughs).
Where do you get your intensity and find your inspiration?
I was taught by very passionate people and I am a passionate person. I was taught that passion is either constructive or deconstructive. I keep trying to build on that and be constructive. If you don't approach a character passionately, if you're not trying to elevate the material then you're probably in the wrong job. I want to be better each day.
When you're watching yourself on "Hawaii Five-0," how much self-critiquing goes on?
I hate watching it. I walk away a bit fractured after seeing myself. It's kind of like when you hear your own voice on an answering machine.
How do you feel about the Season 2 premiere vs. Season 1?
I'm more excited this year. I know my character so well and I know that people like the show. Last year I didn't know what the
Page 1 of 3 pages for this story 1 2 3 >
Most Recent Comment(s):