The Buzz Is All Good In Kailua
Don't take your credit card to Buzz's Original Steakhouse. They don't accept 'em. Even President Bill Clinton had to shell out cash for his dinner.

Wednesday - November 14, 2007
By
.(JavaScript must be enabled to view this email address)
E-mail this story | Print this page | Archive | RSS
|

Del.icio.us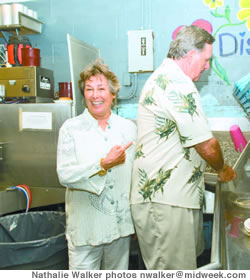 Bobby Lou with husband Stan Yeackel in the kitchen
Don't take your credit card to Buzz's Original Steakhouse. They don't accept 'em. Even President Bill Clinton had to shell out cash for his dinner.
Venerable Buzz's at Lanikai has been a cash-only merchant since it started in 1962, and it's not about to change. Even when its sister restaurant, Buzz's at Pearl City, succumbed to the use of plastic, the Kailua eatery only traded on greenbacks.
While this might surprise some patrons, it hasn't stopped the throng that finds its way to the famous shack by the sea. When patrons want fine food and lively libation, they simply pay by the rules.
That's the way it's been for Bobby Lou Schneider Yeackel and her clan, who have run Buzz's Original Steakhouse for 45 years. While mom-andpop eateries are fast disappearing, Buzz's keeps humming along with its original owner at the helm.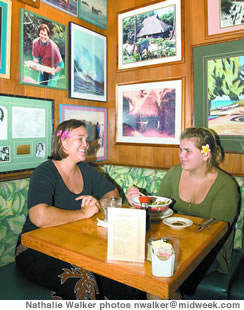 Kaleo Schneider with daughter Tahiti Huetter, who also works at the family restaurant
In this town, that's cause for celebration. That's exactly what Yeackel did last Sunday. Hundreds of friends, family and patrons braved the rains for ono kau-kau and a festive kanikapila at the restaurant. As we watched the flow of mai tais and the glow of joy on faces, we were reminded of how special this Kailua Beach landmark is to islanders and visitors.
Buzz's and Kailua Beach are anchor attractions in one of Oahu's most beloved communities.
You must experience both to say you've been to Kailua - that makes Buzz's a legend in its own time.
It's remarkable, considering the place has never spent a dime on advertising and sustains its popularity on the power of word-of-mouth referrals.
Started on nothing but a will to survive after previous restaurant deals and partnerships went sour, Bobby Lou and her ex-husband Buzz Schneider bought an old beach house in 1962 and turned it into a steak-house. They served grilled steaks, chicken and kabobs. Nothing on the menu was over $4.
The menu was etched into a six-inch wooden paddle, one of which is mounted on the bar today as a reminder of the "early days." Buzz's iconic paddle-menu today is much larger with more selections to please the ever-evolving palate and preferences of diners.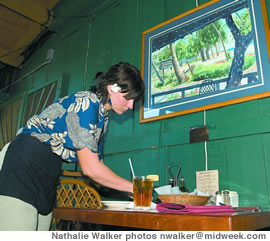 Waitress Danielle Laudise sets up the lanai table where then-President Bill and Hillary Clinton dined in 1994
Today, diners have a choice of several kinds of fresh fish, rack of lamb (our editor's favorite), prime rib, lobster tail, Alaskan King crab legs, or surf-and-turf combos. Entrees include Buzz's fabulous salad bar (a meal in itself).
Wait help keep an eye on your table and as soon as salads are cleared, the entre is fired. Don't expect snooty nouvelle cuisine or Hawaii regional fusion here. As fellow foodie Nadine Kam once wrote, "...there will always be an audience for the simplicity of steak or fish, grilled or sauted with no fuss, fanfare or funny-kine sauce."
The steak-house concept was originated by Buzz Schneider, revered as the steak-and-lobster king of Hawaii. Over the years, others have copied his format, resulting in ventures such as The Charthouse, Huggo's in Kona, and Chuck's.
But Buzz's is the original.
Page 1 of 2 pages for this story 1 2 >
Most Recent Comment(s):