What A Tasty Job
Gerald Shintaku of Kraft Foods Hawaii makes it a point to involve himself and the company in local charitable causes, such as Saturday's Hawaii Foodbank Food Day drive. Say cheese and prosper. A business empire was built on that premise, and Gerald Shintaku can attest to it.
Wednesday - April 14, 2005
E-mail this story | Print this page | Archive | RSS
|

Del.icio.us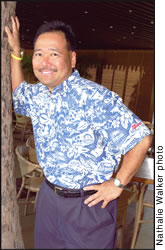 Shintaku gives a local flavor
to Kraft, a $32 billion
international company
Say cheese and prosper. A business empire was built on that premise, and Gerald Shintaku can attest to it. Shintaku is not a photographer, but he's been saying "cheese" for most of his career. It's a natural for someone who works for Kraft Foods, the largest package goods manufacturer in the nation. Shintaku, 46, is customer business manager for Kraft Foods Hawaii.
When approached for a MidWeek interview, Shintaku reacts in surprise, "I haven't done anything special." False modesty? No. Ironically, this humility is reflective of one of the most powerful brands in the world.
Kraft Foods is a "special" brand of company. Exploring that global brand and Shintaku's role locally was our mission. But first we did our homework by devouring Kraft Macaroni and Cheese, followed by refreshing gulps of Crystal Light pink lemonade. Krafty, yet tasty research.
Shintaku supervises a nine-member sales team that handles the retail market statewide. They make sure Kraft products are supplied and distributed in a timely manner to our stores. Customer category managers handle big accounts, like Foodland and Times supermarkets, and sales representatives work directly with small stores. The distribution system also works collaboratively with food wholesalers.
It's a behind-the-scenes role that most shoppers don't know much about, nor care about.
"People don't care how (products) get here," Shintaku smiles, "as long as when they're looking for Oreos or Wheat Thins, they are on the shelf."
Getting products to market is how Kraft Foods started in 1903. An enterprising 29- year-old named James L. Kraft sold cheese to grocers from a horse-drawn wagon. In order to get the best cheese, Kraft was first in line each day at South Water Street market in downtown Chicago. Kraft made personal calls to grocers, who liked the service because it saved them a trip to the wholesale market.
Not much has changed, according to Shintaku. His experienced sales team with over 100 cumulative years of service calls on accounts personally, albeit without horse-drawn wagons. This service frees retailers to spend more time with customers.
It was a business built on relationships when Kraft Foods began with a $65 investment, and it's the same today as Kraft (NYSE: KFT) is a global food and beverage leader with net revenues of over $32 billion.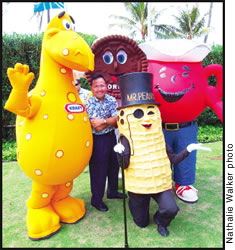 The Kraft brand portfolio is among the strongest of any packaged-goods company. Kraft is the No. 1 cheese brand in the world and the bestknown brand for salad dressings, packaged dinners, barbecue sauce and other products. Nabisco, owned by Kraft, is the No. 1 cookie and cracker business in the world. Maxwell House, another Kraft product, is a leading coffee brand. Philadelphia is the world's No. 1 brand of cream cheese.
No question, it's good to be Kraft Foods. But it comes with a commitment to being responsive and responsible to nearly 100,000 employees and millions of consumers and investors in more than 155 countries.
In Hawaii, the hub of retail sales centers on Shintaku, a personable yet "tough task master." Coming up the ranks of the grocery store business, the Pearl City High School grad (class of '76) started out as courtesy clerk at Star Markets-Pearlridge. From that entry level position, Shintaku worked his way up to the main office as buyer.
In 1988, he joined the Oscar Mayer division of General Foods as sales rep. "I became a meathead," he says, recalling his days of selling cold cuts, hot dogs and bacon.
When Kraft merged with General Foods, Shintaku expanded his sales experience geographically, taking posts in Southern California, at Kraft headquarters Chicago, and in Seattle. In 1999, he returned to hometown Hawaii.
As Island kids know, it's a special day when one "comes home" with a broader view of the world and newly found knowledge and experience. There's a sense of confidence from knowing how things are done outside of our isolated community, and there's a natural desire to want to take the Hawaii market to the next level of greatness.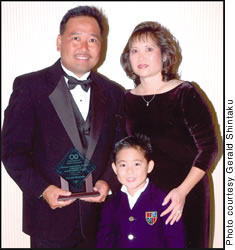 The Shintakus: Gerald, Cathy and Cole
Undoubtedly, this was the spirit with which Shintaku, a UH grad ('81), took up his role as customer business manager. Excelling with discipline and dedication comes from being raised in a military family.
"My parents (Tamotsu and Ayako Shintaku) were my mentors," Shintaku says. "Dad was very disciplined, and stressed perseverance and hard work. Mom was the household manager, who was very supportive and made sure things were under control when Dad was deployed."
Whether at home or in a corporate environment, Shintaku's local values are entrenched. Doug Harris, president of
Page 1 of 3 pages for this story 1 2 3 >
Most Recent Comment(s):