Top Dogs Tell All!
In a rare and exclusive interview, the two Best of Show winners at the recent Hawaii Kennel Club All-Breed Show tell MidWeek about the world of dog competitions, from training to grooming to breeding etiquette

Wednesday - March 15, 2006
By
.(JavaScript must be enabled to view this email address)
E-mail this story | Print this page | Archive | RSS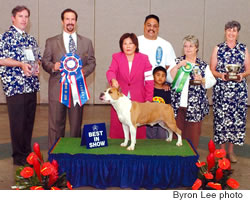 Maka Koa with, from left, ring steward Dwight
Yeager, judge Norman Kenny, handler Faye
Yamamoto, owner Ed Arcalas, Nico Arcalas, and
Barbara Ankersmit and Gerri Cadiz of the Kennel
Club
Dear Editor: Now I've done it all. Last week you had me cover a beauty contest for dogs.
But, doggone it, it was enjoyable and enlightening. I'd do it again, just to run with the pack and drool with anticipation at who makes it to Best of Show. I'm thinking of trading my dates for having a faithful dog that is always at my side, licks my face when I need affection, and pants at the thought of running in the park. It's all I've ever wanted in a relationship.
And I have you to thank for this. It's a new leash on life.
After spending last Saturday and Sunday at Blaisdell Exhibition Hall among 450 entries in the Hawaiian Kennel Club (HKC) All-Breed Dog Show, I now know the stringent requirements and sacrifices it takes to be a purebred champ. But don't take it from me.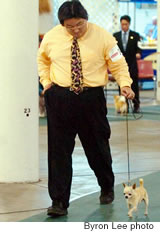 Scott Yamane and Rock My
World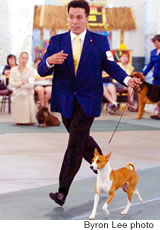 John Gaidos and Motumbo
Xecuemate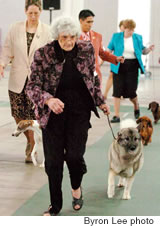 Anne Sutton and Brigitta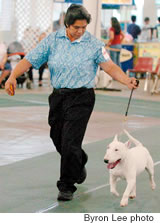 Sally Yuen and Bodacious
Paragon



Allene Auld and Oceania Gold

"Mo" is a 5-year-old Basenji owned by John Gaidos and Ainsley K. Halemanu of East Oahu, and Carol Webb from California. "Maka Koa" is a handsome 3-year-old American Staffordshire terrier, owned by Ed Arcalas of East Oahu.
Here's the inside scoop from the two top dogs in town.
What made you enter the All-Breed Dog Show?
Mo: My owners have bred and trained championship dogs for over 20 years. This is my 12th Best of Show title. I guess it's just in my blood.
Maka Koa: I'm relatively new to Hawaii, having been born and raised in Las Vegas. But I came from championship stock, and my owner got the pick of the litter. He had researched the American Staffordshire terrier breed thoroughly and wanted a dog that would be good with children. The Arcalas family has three children, ages 5, 9, and 11.
What preparations did you go through?
Mo: I was groomed for competition since I was 8 weeks old. As a show dog, I never expected to do anything else. Like I said, it's in my blood.
Maka Koa: Same for me. Mo's a veteran of dog shows; I'm just beginning. But we all go through a rigid routine every day. There's obedience training, special nutrition and diets, conditioning, sociability with people and other dogs so I get used to interaction of all kinds in all situations (especially with judges), and constant stacking or posing with my head held high, body erect, and legs extended. Naturally, there are regular vet visits as well.
Purebreds' vaccinations and health clearances are meticulously documented for American Kennel Club (AKC) standards.
How about on show day? Mo: We are housed in holding pens until it's time to be groomed and prepared for judging, based on when our breed is scheduled for showing. There were 76 different breeds at last week's HKC show. The waiting game is toughest, but I've learned that patience is a virtue. Grooming is pretty simple. I'm short-haired, so I get a good scrubbing before arrival and a little brushing. The long-haired wonders like the Lhasa Apsos, bearded collies and Shetland sheepdogs are constantly under the handler's comb or brushes. They are fluffed, puffed, primped and patted right up to the time of judging.
Maka Koa: Yeah, prissy things. We short-cropped breeds just flex our muscles and parade round the ring. How's my gait, judge?
Tell us about your breed. Maka Koa: The American Staffordshire is a very muscular, stocky, yet agile dog that is extremely strong for its size. I have a broad, powerful head, short muzzle, and very strong jaws. My eyes are round and black. We are good-natured, amusing, extremely loyal and an affectionate family pet. We want nothing more than to please our master.
Mo: Basenji is a hound breed. We originated as a small, short-haired hunting dog from Africa. We are short backed and lightly built. Our wrinkled head is proudly carried on a well-arched neck, and the tail is set high and curled. Eyes are dark hazel to dark brown, almond shaped, and obliquely set. Ears are small, erect and slightly hooded. We are intelligent, independent, but an affectionate and alert breed. Basenjis do not bark but are not mute.
Mo, if you're barkless, how are you answering our questions?
Mo: I'm barkless, not senseless. Is there a quarantine period for
Page 1 of 2 pages for this story 1 2 >
Most Recent Comment(s):
Commenting is not available in this weblog entry.