Better Than Paintball
The guns look realistic, but the bullets are biodegradeable pellets. And for all kinds of reasons, lots of people who play 'airsoft' combat games prefer it to paintball
Wednesday - November 22, 2006
By
.(JavaScript must be enabled to view this email address)
E-mail this story | Print this page | Archive | RSS
Mark Ishisaka takes aim
It looks like the real thing, but in my opinion, it's better because no one actually gets hurt.
I'm talking about airsoft weapons - rifles, machine guns, pistols, etc. - that are used to shoot people in a regulated indoor/outdoor combat-type game.
The key word there is game. It's just a game. But the realistic nature of these toys is one of the biggest reasons why airsoft fans love the game so much.
"It's pretty close to the actual weight of a real weapon," says Roland Manahan, field manager of Paintball Hawaii & Pacific Airsoft at Marine Corp Base Hawaii, Kaneohe Bay. "They look and feel the same way. And we utilize some of the actual clothing that the servicemen use.
"The game itself, however, is not realistic in that if it was a real bullet, my face would be on the ground. It's more like an adult game of tag. It's warrior-listic, you get to dress up, and it's cheaper than paintball."
In 1987, Pat Ohta founded Airsoft Hawaii, a club dedicated to promoting airsoft.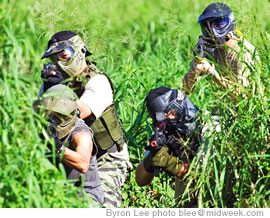 (from left) Ted Ikari, Tyler Woo, Chris Naleimaile and
Grant Woo engage the enemy
"We're the oldest airsoft club in the United States," he says. "I think it's amazing to see how airsoft has grown and developed over the 20 years. Watching the technological advances has been pretty neat.
"Back then it was more common to have four people getting together or 15 on a busy day, and you couldn't find supplies on the island. Now it's readily available and there's thousands of players."
Airsoft weapons use biodegradable pellets called bb's. When shot, the bb's can leave a quick sting, and a possible welt, depending on how close you are.
A bag of bb's costs about $10 to $15. An airsoft rifle ranges from about $200 to $400, airsoft pistols from about $100 to $300 and an airsoft machine gun costs about $4,000.
With a borrowed mask, camouflage jacket and an MP5 airsoft rifle, I joined the action at the newly opened Pacific Airsoft field at Marine Corps Base Hawaii, Kaneohe Bay.
Nov. 11 was the first day of play at Pacific Airsoft, drawing about 75 players (mostly men and about four women).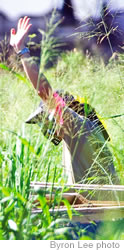 Grant Woo signals that
he's been shot
Before the game, the group is split into two teams. Then, from opposite ends of the field, each team works its way to the other side shooting at any enemy in sight. If hit, the player has to raise his or her gun, declare that they've been shot, and head to the "dead box."
"Airsoft is a survival game," says Ohta. "It's like cowboys and Indians - one team chasing the other and trying to eliminate them.
"It's a fun action game for people who like to run around and use tactics to take each other out."
Each game lasts about 20 minutes, and there are other scenarios that can be played, such as rescue the president, guard the president, capture the flag, and attack and defend.
Tyler Woo, who co-owns airsoft shop Impact Games, says he discovered airsoft by accident. "It was about 10 years ago and my brother and I were looking to play paint-ball," he recalls. "We found these airsoft guys instead and we've been with them ever since."
Impact Games is one of the three largest airsoft stores on Oahu, specializing in repairs, custom work and supplies. The other two stores are Power Edge in Kaimuki and Epowersports near Ala Moana.
"Airsoft guns are treated similar to an air gun or a paintball gun, so you have to be 18 years or over to purchase one," says Grant Woo, who also co-owns Impact Games. "When they purchase the gun they also have to have a current ID and sign a release form. And once they have the gun, they can't have it out and exposed in public. If they're transporting it, they have to have it covered, in a case or a box."
In 2003, Mayor Jeremy Harris signed a law prohibiting the carrying or displaying of a replica gun in a public place or in the presence of a law enforcement officer. According to Airsoft Hawaii, the new law came as a result of of the increased calls Honolulu Police Department officers were responding to regarding people carrying replica guns.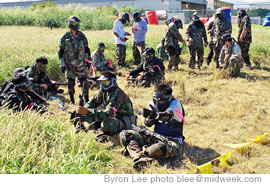 Players who have been hit gather in the 'dead box'
Violators could face a fine of up to $1,000 and a year in jail.
Blake Abe, acting president of Airsoft Hawaii (ASH), started playing airsoft in high school.
He says he was never into sports, but found airsoft enjoyable because it didn't require as much physical ability.
"You don't have to run the fastest or jump the highest to be good at it," he explains. "There's a level playing field for everyone."
Abe says he likes the role playing aspect of the game, and believes the secret to winning is being able to keep a level head, to think clearly under pressure and, of course, luck.
"In the past, occasionally, we've had some people take it too far on the field," says Abe. "They're yelling at people and being too aggressive, but usually we talk to them right after the game and they understand. Fortunately we've never had to ban anyone."
Mark Ishisaka has been playing airsoft for about seven years. A former drag racer and drifter, he says he's been playing airsoft a lot more since Hawaii's only car and motorcycle race track, Hawaii Raceway Park, closed earlier this year.
Page 1 of 2 pages for this story 1 2 >
Most Recent Comment(s):