WINDWARD OAHU COMMUNITY NEWS COVERSTORY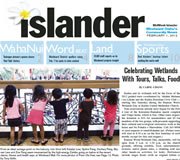 February 01, 2012
By Carol Chang

Kailua and its wetlands will be the focus of the 2012 guided tours coordinated by 'Ahahui Malama i ka Lokahi and the Kailua Hawaiian Civic Club starting this Saturday during the Ramsar World Wetlands Day at Kailua United Methodist Church.
Read Story >>
WINDWARD OAHU NEWS
February 01, 2012
WINDWARD OAHU SPORTS
February 01, 2012
WINDWARD OAHU WAHA NUI
By Carol Chang - February 01, 2012
Sorry to miss the Tuskegee Airmen symposium last month at the Pacific Aviation Museum. Keynote speaker was UH professor Dorothy Goldsborough of Kahaluu, whose husband Romaine is one of the original Tuskegee pilots in World War II.
Read this week's Waha Nui >>
FOCUS ON WINDWARD OAHU
MidWeek Oahu community news photo section - Featuring your friends and ohana