MIDWEEK COVERSTORY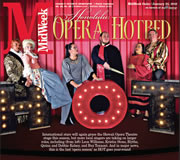 January 25, 2012
By Rasa Fournier

International stars will again grace the Hawaii Opera Theatre stage this season, but more local singers are taking on larger roles, including (from left) Leon Williams, Kristin Stone, Blythe, Quinn and Debbie Kelsey, and Buz Tennent. And in major news, this is the last 'opera season' as HOT goes year-round
Read Story >>
MIDWEEK FEATURE

January 25, 2012
By Rasa Fournier

Stretching as far back in history as the Hawaiian Islands archipelago itself is the aquatic life that teems at its shores.
Read Story >>
NEWSMAKER
By Susan Kang Sunderland - January 11, 2012
American justice isn't equal if you're poor or an immigrant, and the state Judiciary is trying to change that
Read Story >>
FOOD
Heart-y Chef - January 25, 2012
Sam Choy's Kitchen - January 04, 2012
Table Talk - January 25, 2012
SPORTS
Hot Air - January 25, 2012
Keeping Score - January 25, 2012
POLITICS
A Conservative Estimate - October 26, 2011
Coffee Break - January 25, 2012
Just Thoughts - January 25, 2012
Mostly Politics - January 25, 2012
The Right Price - January 25, 2012
BUSINESS
Business Round Table
January 25, 2012

By Brett Seitman
President & CEO of IAAK Education
IAAK Education plays an important role in our children's future. As technology continuously evolves, it is critical that we provide this generation with the necessary tools for academic success and achievement in an increasingly competitive economy.
Read Column >>
Entrepreneurs - January 25, 2012
Movers - January 25, 2012
TRAVEL
Kimo Akane - January 25, 2012
FORGETABOUTIT ... This Valentine's Day, seven couples will be chosen to get hitched in the "Married at The Mob Museum." Your ceremony will be officiated by the mob's legal eagle Oscar Goodman, who later became the carpo di tutti capi (the boss of bosses) for North Las Vegas.
What else is going on in Vegas >>
Old Friends - January 25, 2012

Here comes the Kalihi Kid again. Former Gov. Ben Cayetano made it official last week, announcing his candidacy in this year's mayoral campaign. With 28 years of public office experience, Cayetano, 72, is heading into this campaign with a nothing-to-lose attitude.
Read more about Ben Cayetano >>
Applause - January 25, 2012
Moonlighting - January 25, 2012
Susan's Page - January 18, 2012
The Young View - February 11, 2009
What's Next - January 25, 2012