CENTRAL OAHU COMMUNITY NEWS COVERSTORY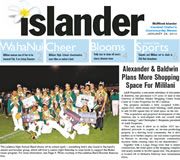 January 25, 2012
By Midweek Staff

A&B Properties, a real-estate subsidiary of Alexander & Baldwin, has purchased 4.35 acres of land at the Gateway at Mililani Mauka Shopping Center from Castle & Cooke Properties for $8.2 million.
Read Story >>
CENTRAL OAHU NEWS
January 25, 2012
CENTRAL OAHU SPORTS
January 25, 2012
CENTRAL OAHU HIGHLIGHTS
January 25, 2012
* EYEGLASSES Lions clubs collect used eyeglasses and dark glasses from 8 a.m. to 2 p.m. Jan. 28 at Mililani Walmart and Wahiawa Longs Drugs for the statewide "Recycle for Sight" project. Members clean and pack the glasses to send to developing countries where eye care is rare and costly.
Read this week's Highlights >>
CENTRAL OAHU WAHA NUI
By Carol Chang - January 25, 2012
There's a treasure living in Mililani named Barbara Kawakami, and Honpa Hongwanji Mission of Hawaii will honor the historian and award-winning author as one of its five Living Treasures for 2012.
Read this week's Central Waha Nui >>
FOCUS ON CENTRAL OAHU
MidWeek Oahu community news photo section - Featuring your friends and ohana